Dear Editor,
A Belize audio Cd titled "Ibagari: Portraits of Garifuna Lifecycle in Song" was released three years ago in June 2013 and available online at Amazon, iTunes and CD Baby. That audio Cd now has a companion book titled "Ibagari Song Reference: Portraits of Garifuna Lifecycle in Song," written by Crique Arena, Toledo District-born Leonard Cayetano, MS, MBA, with his wife Dangriga, Stann Creek District-born Joycelin Palacio-Cayetano, Ph.D. for the Len and Joycelin Cayetano Garifuna Heritage Foundation.
The music book includes compositions by Garifuna masters, musical notations, Garifuna lyrics, translations of lyrics to English, translation of lyrics to Spanish, historical context and art illustrations.
Printed in the United States of America, the book contains many photographs snapped during Len and Joycelin's inspiring 1997 visit to Yurumei,in the Garinagu homeland of St. Vincent and the Grenadines. The first image in the book is of a stone plaque with the words "JOSEPH CHATOYER BLACK CARIB CHIEF FOR FREEDOM DIED HERE 14TH MARCH 1795".
Numerous images of Ulmar Gregory Palacio's best artistic expressions of Garifuna lifestyle are found in this book.
Andy Palacio reviewed an early draft of this work.
Master drummer, Eustace "Bato" Serano, shared his immense understanding of every genre of Garifuna music and stretched Len's abilities to their limits.
One of Belize's best musicians, Michael Hyde, gets special mention; he recorded the initial tracks for most of the songs.
Master drummers, Glen and Francis Garcia, strengthened the traditional pieces.
Jazz musician and producer, Clinton Patterson, contributed to the project and plays trumpet on a few songs.
Lieutenant Colonel Sylvia Ellis-Cayetano having heard a rough cut of the album asked her husband, William "Bill" Cayetano, to assist with mixing and polishing the album.
Co-founder of Garifuna American Heritage Foundation, Rony Figueroa, did translations to Spanish, such that Garinagu in Spanish-speaking communities can also benefit from the work. John Zechiel, Doug Lebow and Len Cayetano did transcriptions to expand access of the music to any individual anywhere who is interested in learning Garifuna songs. And, book concept, book design and translations to English are by Dr. Joycelin Palacio-Cayetano.
Professor of Communications at University of California, San Diego, Michele Goldwasser, Ph.D., says "Ibagari deserves a privileged place in every Garifuna home."
Len's aunt, Phyllis Cayetano's Foreword, opens with a seven-year-old Len at his grandparents' Punta Gorda new home that came with an old piano. Cover shows Len's mid-1970s St. Peter Claver College years that, included musicians/teachers, Albert Williams on guitar, Emory and Laura Whipple on drum kit and bass guitar respectively, Jennifer Lovell on vocals and Mr. Kennedy on organ. And fellow students Jeremy Enriquez, Andy Palacio, Jeffery Zuniga, Doug Williams and others.
Plus, the dark period in the history of the Garinagu people exiled from their homeland because they stood up to the British who coveted their lands.
The Foreword concludes with congratulations for the splendid job done on Ibagari Song Reference, hoping it heralds a new career in writing, for there are many "untold stories that need to be told and this and future generations are waiting to hear them."
The, Song Selection Process section includes a description of the Garifuna musical genres: Abeimahani, Arumahani, Chumba, Gunjéi, Hüngühüngü, Paranda, Punta, Sanbai and Wanaragua.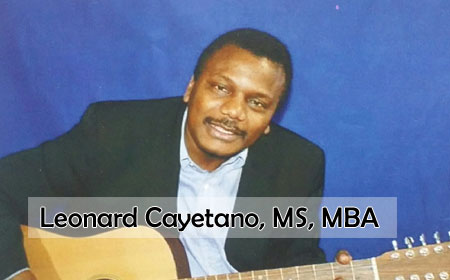 The Rationale for Movements in Recording section is inspired by the works of fellow Belizean, gifted genius of music, classically-trained master of the piano, Francis Reneau. The movements are 1. Wayunagu: Garifuna cosmology. 2. Sügü: tribulations. 3. Ísieni: love and its complications. 4. Õnweni: ephemeral life. And 5. Coda, Hawiwandu Garinagu Gumugua Dan: reconcile with our past, adapt to new situations, develop new skills.
Ibagari contains many historical notes, and concludes with eleven reading questions and topics for reflection and discussion. Here is number six: What do you view as the best explanation for the paradox — Garifuna people who remained in Saint Vincent and the Grenadines lost the Garifuna language whereby fluency in speaking Garifuna is in effect non-existent, while Garifuna exiles retained the Garifuna language with Garifuna descendants being able to speak the Garifuna language 200 plus years later?
Meanwhile, Joycelin Palacio-Cayetano holds a post-graduate degree in Instructional Technology from the University of Southern California and works as a Science Educator in Bioinformatics Education Management. And, Len Cayetano holds a graduate degree in Mathematics and another in Computer Science from DePaul University in Chicago, Illinois. In December 2014, Len was nominated as a candidate for The Institute for IEEE's 2015 Professional & Educational Activities Board. This board oversees the global educational and professional activities for the Computer Society.
Best regards,
J. C. Arzu
+501-610-2923
Skype: j_c_a1
Related Articles
Share
About Author
(0) Readers Comments