General
— 18 November 2017
— by Micah Goodin
BELMOPAN, Cayo District, Wed. Nov. 15, 2017–According to the Auditor General's Special Audit of the Immigration Department, Swedish national Peter William Dahlstrom, who had married Sherrette Normandeen Simplis in 1994, received Belizean nationality in 2012 even though he did not meet the required qualifications.
The audit further revealed that Dahlstrom's sister-in-law, Kim Simplis Barrow, and her husband, Prime Minister Dean Barrow, recommended his application, and in that application, they stated that they had known him for 20 years.
On his application, Dahlstrom wrote that he did not live in Belize but, "Eventually wants to reside in Belize." Additionally, he revealed that he had been spending 4-6 weeks in Belize every year "for the last 20 years."
According to the audit, the regulations state that, in order for an applicant to qualify for nationality, that applicant would have had to be resident in, and must intend to continue to be ordinarily resident in, Belize, and that the applicant would only qualify for nationality if he or she had been resident in Belize throughout a period of one year immediately preceding the date of the application of such applicant.
Today, during the sitting of the Senate Select Committee, the substantive Minister of Immigration, Hon. Godwin Hulse, answered questions posed to him by the Senate Select Committee concerning his ministry's issuance of nationality to Peter Dahlstrom. The following are his responses to senators who interrogated him about the matter.
Senator Mark Lizarraga: "Ms. Ady Pacheco, Immigration Officer who interviewed the applicant, wrote on the minute sheet to the director, 'he qualifies for citizenship under section 11 of the Nationality Act', which he did not."
Senator Hulse: "I am not sure, Senator, that he did not."
Senator Lizarraga: "Could you expound?"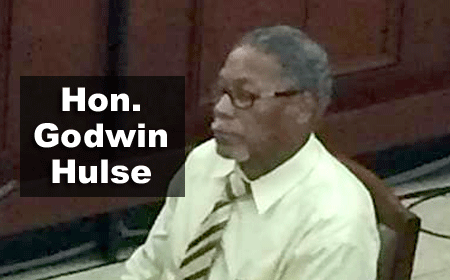 Senator Hulse: "Sometime in 1992, I think, the law was amended to introduce a deeming provision that for purposes of residency, persons are deemed to be legally resident, so they are deemed to be a legal resident. That provision, as I understand it even from the present Solicitor General, is subject to interpretation. There is one interpretation that said it means that if the person was here legally or not, the person is legal. But there is another interpretation that says it confirms legal residency, which is quite different from actual continuous residency. The principle being then, that in this case this gentleman had been married properly in a church, Sacred Heart Church, for eighteen long years, so when the file came I did not remember at all anything to do with the Prime Minister or anything, simply, properly married in a church for eighteen long years, which well surpassed the one year…therefore, under the provisions of marriage, he qualified. I was a bit surprised that the Auditor General highlighted this in this way, because there are other cases she mentioned but didn't highlight. So, it seemed to me that all she could have done was gotten a legal interpretation…I would suggest that she is not the competent authority to bring the legal interpretation, nor am I…The competent authority would be the courts, if there is a difference."
Senator Eamon Courtenay: "I want to be very clear about what you're saying without referring to the specific case yet. Are you saying that every person who is not a Belizean—who is resident outside of Belize—gets married to a Belizean outside or inside of Belize, is entitled to be a Belizean citizen?"
Senator Hulse: "After a year period."
Senator Courtenay: "After one year—if you are living in the United States—you marry a Belizean—one year passes—you are entitled to be a Belizean?"
Senator Hulse: "That is my understanding—that it gives you legal residence; you are a legal resident."
Senator Courtenay: "You have the Immigration Act with you?
Senator Hulse: "Yes."
Senator Courtenay: "Can we look at it?"
Senator Hulse: "Yes."
Senator Courtenay: "I will tell you very directly, Senator, and we will go through it because it is important not only for the specific case of Mr. Dahlstrom, but for the implications of everybody else in a similar position, because on your interpretation there are tens of thousands of people out there who are entitled to be Belizeans—a whole lot of issues arise, so let's look at the law. Let's look first of all at the deeming provisions that you are referring to, which is section 11 (4). It says, for the purpose of residency requirements specified in subsection 3 (b), if any applicant marries a Belizean citizen, such applicant shall be deemed to have been legally resident in Belize from the date of such marriage, notwithstanding he might have entered Belize illegally. Whether you agree with me or not, I suggest to you that the fiction that occurs here is that if you are illegal you are deemed to be legal from the date of marriage. That is the fiction. You agree?"
Senator Hulse: "That's one of them."
Senator Courtenay: "What's the other one?"
Senator Hulse: "In trying to establish what is really meant by legally resident, that is the issue upon which this debate went back and forth and back and forth. I am clear that if you are in the country illegally, and you get married, this makes you legal. That is one provision that is dealt with. It is also my understanding that because of the wording of it, it was subject to the interpretation that you also have legal residency, not actual residency, and that is the issue that I think needs to be cleared."
Senator Courtenay: "We won't quarrel about that. It's wrong. Let's look now to 11 (1), which is the provision by which Mr. Dahlstrom applied. He is applying on the basis that his wife is a Belizean by descent. Yes?"
Senator Hulse: "Yes."
Senator Courtenay: "When you come to (3), it says after receipt of the application under subsection (2) of the section, the prescribed officer shall send the application to the Minister, if the Director is satisfied that the applicant has the following qualification…the qualifications specified in section 10 (1) (a) and (c). What is 10 (1) (a) and (c)? 10 (1) (a) is that the applicant is of full age and of sound mind and (c), that the applicant is and intends to continue to be ordinarily resident in Belize.
"So, for Mr. Dahlstrom to qualify he had to be resident in Belize and intended to continue to reside ordinarily in Belize. Do you agree?"
Senator Hulse: "No."
Senator Courtenay: "Does section 10 (1) (c) say that the person has to be, is, and intends to continue to be ordinarily resident in Belize?"
Senator Hulse: "Yes, it says that."
Senator Courtenay: "And the section which Mr. Dahlstom relied on is 11 (3), which says that he has to 10 (1) (a) and (c). 10 (1) (c) requires that the person be resident and to intend to be ordinarily resident. Yes? Let me take you to the same section we looked at—that deeming provision. You remember I said to you that the deeming provision refers to 3 (b) you see 4, it says 3 (b).
"So this deeming provision that you have been advised makes people legal, only deals with 3 (b), and does not deal with 3 (c). So, Mr. Dahlstrom cannot rely on this deeming provision which specifically says, for the purpose of residency requirement specified in subsection 3 (b). He cannot rely on that for 3 (a). Do you agree?"
Senator Hulse: "I will demit to that interpretation that you have said…I want to put for the record because the issue brought forward by the Auditor General is not an issue of misinterpretation. It's an issue that there was wrongdoing."
Senator Courtenay: "That will be dealt with somewhere else, but what we're dealing with is whether or not Mr. Dahlstrom, on the material before us, qualified. Do you recall what Mr. Dahlstrom said about his intention to reside in Belize in his application?"
Senator Hulse: "I don't fully recall what he had said."
Senator Courtenay: "Since this matter has been raised, have you done anything to find out whether or not he is legally entitled to nationality?"
Hulse's response to that was that the Office of the Solicitor General is of the view that that matter is subject to interpretation.
Related Articles
Share
About Author
(0) Readers Comments