BELIZE CITY, Thurs. July 28, 2016–The UBAD Educational Foundation (UEF) is organizing its third annual observation of Emancipation Day in a thought-provoking fashion.
In 2014 the UEF through its treasurer, Virginia Echols, collaborated with Belizean Egbert Hignijo to host an eighteen-member delegation of students from the San Jose Community College and San Jose Evergreen Community College in California. Those students majored in areas of African studies, ethnic studies and anthropology. The theme that year was "Understanding Enslavement in Belize 2014."
In 2015 the UEF organized a lecture featuring Myrtle Palacio and Dr. Jahlani Niah.
Palacio, the PUP's Former Secretary General, completed her Master of Science degree at the College of Urban and Public Affairs at Armstrong University, Berkeley, in December 1995. Palacio's thesis was entitled, "Redefining Ethnicity, the Experience of the Garifuna and Creole in Post-Independent Belize."
Dr. Jahlani Niah, a farmer, author and lecturer at UWI's Mona Campus, was joined by his wife Dr. Sonjah Stanley Niah, who holds a PhD in Cultural Studies and a Bachelor's degree in Geography from UWI.
However, this year's invited guests who are scheduled to present lectures between 7:00 and 9:00 p.m. at the University of the West Indies Open Campus on Princess Margaret Drive are Omitade Adediran and Dr. Kurt B. Young.
Adediran's lecture is focused on traditional African spirituality as it relates to the Afro-Belizean in 2016.
Young's lecture will focus on Belize's role in Pan-Africanism. Young, who is of Belizean heritage, holds a Master's degree in Political Science and is an associate professor and chairperson at Clark Atlanta University.
Dr. Kurt B. Young will be joined by his wife Arna Young, and cousin Paul Jones.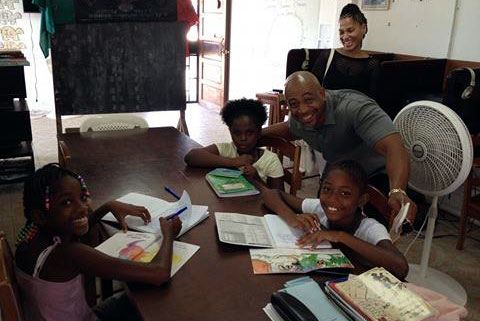 His Belizean roots can be traced back to the Youngs and Hoares from Gracie Rock, the Thurtons and Tuckers from Belize City and the Jones family in the Lake Independence area.
On July 31 from 8:00 to 10:00 p.m., there will be a "singspiration" session at the Queen Street Baptist church.
From 10:00 to 11:00 p.m. refreshments will be served and from 11:00 to 12:00 p.m. a service will be held to recognize the freedom of our enslaved ancestors and their freedom in Christ.
On August 1 at 6 a.m. the general public is invited to release colorful paper boats into the sea at the House of Culture to "symbolize the freedom of our former enslaved African ancestors."
At 8 a.m. on that same day stakeholders in the activities for Emancipation Day will be present on KREM's Wake Up Belize Morning Vibes talk show.
At 10 a.m. the Museum of Belize is to launch an exhibition titled, "enSlaved" at its Gabourel Lane address, which will remain open for an entire year.
All Belizeans are welcome to attend the various events organized for Emancipation Day. The UEF hopes that Belize will officially celebrate and recognize Emancipation Day.
UEF also acknowledges, and expresses appreciation, for the support and collaboration of the following community partners:  ISCR/NICH, the Museum of Belize, Queen Street Baptist Church, House of Culture in Belize City, Kwanzaa Youth Club, the Ministry of Foreign Affairs, University of the West Indies, and Kremandala.