Headline
— 13 December 2017
— by Micah Goodin
BELIZE CITY, Mon. Dec. 11, 2017– An unarmed Honduran national who was doing guard duty is dead — a victim of gun violence after weeks of calm in the old capital.
According to police reports, shortly after 3 o'clock on Saturday morning, investigators visited the scene of the crime, Buca Shell gas station situated at 2 ½ Miles on the Philip Goldson Highway. There, officers saw the motionless body of Baltazar Sarmiento, 61. He was lying face-down on the compound with an apparent gunshot wound to the left side of his head.
Amandala understands that shortly after midnight, Sarmiento was eating some food when two men pulled up in a boat from behind the gas station. The men disembarked the vessel and attempted to gain access to the convenience store at the gas station. Sarmiento attempted to prevent them from doing so, and that was when he was shot in his temple by one of the men. The men then ran back into their waiting boat and made good their escape, emptyhanded.
The entire incident was caught on the gas station's surveillance system. However, police are having difficulties identifying the men because their faces were wrapped with shirts.
In an interview with Amandala today, Micros Sarmiento, 19, told us how he learnt of his father's tragic demise.
"I mi find out this di Saturday morning, 6 o'clock exact, when my neighbor come knock on my window and tell me that how I must go check on my father da ih work 'cause some tragedy happen and they seh ih dead," Micros said.
According to Micros, he didn't believe the story, and so he went to his father's workplace, where the worst was confirmed.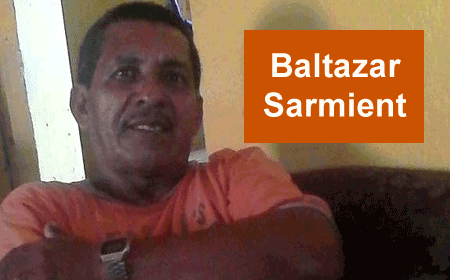 "I never believe so I jump on a bike quick and rush cross to fi hihn job site, expecting to see him," Micros said. "I ride and circle eena the gas station, to see if I could see him, but all I could see da his blood on the ground beside the vehicle where hihn mi di eat before dehn come and take away his life," he related.
Micros told our newspaper that he was unsure as to why anyone would want to hurt his father.
"I noh sure why they shoot him. My people are saying it was a robbery, but dehn never take nothing. Nothing gone missing. Dehn noh thief nothing; it is like dehn gone there to kill him," Micros said. "I think somebody wanted to hurt him, but I noh know for what. All I know, he was a good man. He never harm, threaten or had any problem with anybody," he said.
Micros will remember his father as a hardworking man.
"He was our breadwinner," Micros said. "I remember he stood by my side throughout my time in high school. When I graduate, he was at my graduation. It is just one year since I graduated. He was trying to put me on my foot, trying fi mek I get a job now."
Now, with his father's sudden death, Micros will have to do it on his own. He told Amandala that if his father was armed, the incident would have unfolded differently.
"I don't think they mi wahn rush him like that. He might have gotten hurt, but he would still be alive," he said.
When Amandala today contacted Marco Miranda, the manager of the gas station, he told us, "Apparently they came to rob the place, and the place was already closed. He was the only one here and so apparently he was shot by surprise."
Sarmiento had worked as the watchman of the gas station for the last 14 years; every day he worked from 8 p.m. to about 7 a.m.
Miranda told our newspaper, "Mr. Sarmiento was a very dedicated man to his work, always punctual, always willing to go the extra mile for the company."
A postmortem examination will be conducted on Sarmiento's body tomorrow. In the meantime, his family is making arrangements to send his body to Honduras, where he will be buried beside his mother's grave. Sarmiento leaves behind 8 children.
Related Articles
Share
About Author
(0) Readers Comments