Police believe he was mistakenly targeted
BELIZE CITY, Thurs. Jan. 4, 2018– On the second day of the New Year, a second, senseless murder shocked Belize City residents. Shortly after 7:30 p.m. on Tuesday, January 2, the sickening sound of gunfire disturbed the tranquility of suburban life in the Belama Phase 2 area.
Two men, with their faces covered, waited for a couple to return to their Belama home, located on Maurice Bishop Street, and when they appeared, the men opened fire, fatally hitting the man and injuring his wife.
Police reported that when they arrived on the scene around 7:40 p.m., they observed the motionless body of a man who was apparently dead on the stairs of a two-storey building. He had what appeared to be several gunshot wounds to the body, a police report said.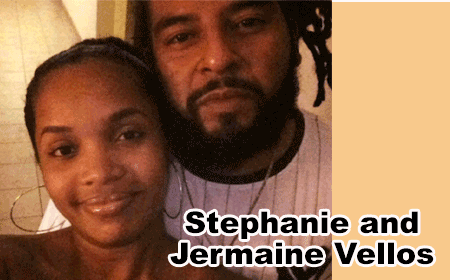 The man, Jermaine Ryan Vellos, 37, a Belizean who resides in Queens, New York and is employed as a warehouse machine operator, was shot multiple times to the body, while his wife, Stephanie Nicole Foreman Vellos, 29, a sales clerk in Belize City, sustained gunshot wounds to the right leg and was grazed on the left hand.
 The couple was rushed to the Karl Heusner Memorial Hospital, where a doctor pronounced Jermaine Vellos dead on arrival, a police report said.
Today, police confirmed at their press conference that it indeed appeared to be a case of mistaken identity, because the man who was killed has dreadlocks just like another man who resides at the same house.
Police also confirmed that they have a person of interest, who they believe approached the house from the river.
A neighbor who spoke to Vellos' family told reporters, yesterday morning, that the family believes that it is a case of mistaken identity.
The family, however, has refused all media interviews.
At the time of the shooting, the couple's 6-month-old baby girl was upstairs with other relatives.
Jermaine Vellos was married about two years ago and was scheduled to fly back to his New York home today, Thursday.