BELIZE CITY, Mon. Apr. 16, 2018– One Week 14 back match remains, Wagiya vs San Pedro Pirates, to officially complete the Premier League of Belize 2017- 2018 Closing Season regular reason, but the results of Week 14 games played over the weekend have confirmed the matchups in the best-of-two semifinal playoffs. After Verdes bombed Police United, 7-1, in San Ignacio; and BDF drew, 2-2, with Belmopan Bandits at the MCC; BDF has jumped to #3 seed, and Police United has dropped to #4 seed. The playoffs will therefore feature #1 seed Bandits vs #4 seed Police United; and #2 seed Verdes vs #3 seed BDF.
All 4 Week 14 games were scheduled for yesterday, Sunday, but only 3 were played, as the Wagiya vs San Pedro Pirates game was postponed due to weather. But that game has no effect on the top 4 standings.
At the Victor Sanchez Union Field in Punta Gorda, home standing Freedom Fighters FC were held to a 0-0 draw with the Placencia Assassins.
Here at the MCC Grounds, visiting Belmopan Bandits SC were on cruise control, playing without Honduran striker Georgie Welcome and goalkeeper Shane Moody Orio; but they still forced home standing BDF FC to dig deep to pull out a 2-2 draw. Rising star Tarrell Flores stuck twice for BDF (34' & 72'), displaying some fine dribbling skills; but he will miss their first playoff game, as he was ejected at the 87th minute, following a confrontation with the Bandits' Hector Martinez, when both strikers were ejected by referee Hermanin Tzib. Bandits' goals came from Rony Flores (36') on a controversial play that saw the referee overruling his linesman's flagged offside, and a diving header by Hector Martinez (56') following a center by Flores.
Meanwhile, out west at the Norman Broaster Stadium, it was a shockingly one-sided affair, as the visiting Police United FC fell victim to a 7-1 Verdes onslaught. Verdes had a goal each from Nahjib Guerra (5'), Roberto Silva (22'), Everal Trapp (70'), Jarret Davis (73' PK), Gilroy "Bredda" Thurton (87') and Sean Caliz (90'), along with the benefit of a Police United own goal by Cristobal Gilharry (64' OG). Police United's only goal was by captain, Andres Makin (49').
The stage is now set for the semifinal playoffs. BDF and Police United are tied with 20 points, but BDF had the greater goal difference (+8 to -2 for Police), so BDF is seeded #3 and will therefore face Verdes in the semifinals. (See standings below.)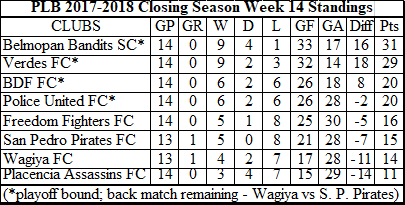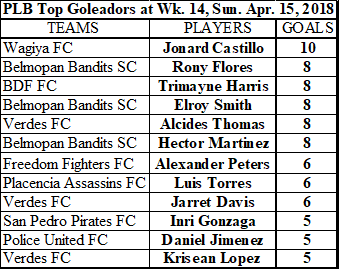 The goal scoring title is all but wrapped up by Wagiya's Jonard Castillo (See Top Goleadors list below.), as his closest rival is San Pedro's Inri Gonzaga with only 5 goals and one back match remaining with Castillo's Wagiya.