Features
— 02 September 2017
— by Ma'alob k'iin Nojoch Mak Clinton Uh Luna,
Before introducing myself I want to give you thanks for writing about us Maya of northern Belize in the Amandala, since we, northern Maya of Belize (Yucatec Maya), have been forgotten and ignored in the media, schools, etc.
My name is Andy Chuc. I am a proud Maya Masewal, or as they call us in Belize today, Yucatec Maya. I was born and raised in the village of San Pablo, Orange Walk, but my family's history and the Caste War are very connected. My great grandfather's name is Juan Chuc, a Maya rebel of the territory of Chan Santa Cruz. After the Mexican federal army took Chan Santa Cruz, he left the area with his 2 brothers and 1 sister but they stayed at Othon P Blanco, (Chetumal) while he crossed the Rio Hondo with just his bayonet and a rifle (our family still possesses the bayonet). Here in Belize he formed a family and his descendants of the Chuc family are still in Belize.
My great grandfather mentioned that he was a descendant of Juan Bautista Chuc, and after investigating we learned that Juan Bautista Chuc was a secretary of the Cross and second in command of General Crescencio Poot. Anyhow, Juan Chuc was just one of the many Cruzob Maya rebels who came to Belize during and after the Caste War.
Now, as I have seen today, the tradition of dressing the Cross is still done in northern Belize. You can still see people dressing their Cross with a Huipil in many villages in northern Belize, especially for the Hanal Pixan ("Day of the Dead") altar. Once, when I was talking to an elder and many people of my village, they said they celebrated the Day of the Cross in San Pablo and San Jose (Orange Walk). They used to make prayers, food, dances, especially the U pool k'ek'een (Hoghead Dance). It was a celebration which was done until the early 1980's in the village.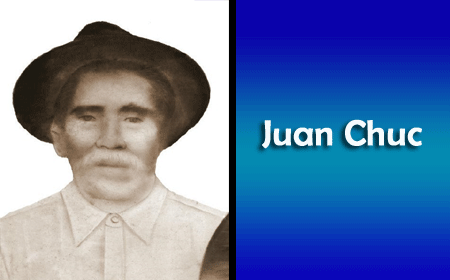 So apart from Jesus Ken's ancestors coming from Chan Santa Cruz, my family is from there and there are many more. Sadly, our educational system has tried to erase that part of history. Thank you, Mr. Clinton for your time. I am Andy Chuc, a proud Belizean. I am a proud Yucatec Maya Masewal descendant of the Cruzob Maya rebel Juan Chuc (great grandfather), who came to Belize, descendant of the Maya general Juan Bautista Chuc (my ancestor). Cruzob Maya rebeldes por siempre!!!!!
Hermano Andy Chuc,
Es un placer conocerte a través de este medio. Agradezco mucho que te hayas identificado como lo que verdaderamente eres. Ahora, me gustaría pedirte permiso de publicar la carta que me mandaste y añadir a ella un poco de información de mi parte. Mucho te agradeceré que me contestes. Quiero que sepas que mi primera esposa era de Peto, Yucatán, una Maya, y estuve por mucho tiempo en las aldeas de ese lugar durante los 1960s. Aun, se conservaba vivo el espíritu de la guerra. Allí fue adonde empecé a aprender lo que es sentir ser Maya. Gracias, hermano.
Claro, Mr. Clinton Uh Luna. Le doy permiso que lo use. Yo soy un Maya Masewal de San Pablo, Orange Walk, in my late 20's. Soy joven todavía pero la rebeldía de nuestros abuelos siguen vivos en nuestro corazón, preservando nuestra identidad Maya en el norte de Belice. En nuestro caso el Yucatec Maya es una manera de rebeldía. Le mando la foto de mi bisabuelo Juan Chuc; él es el que vino del territorio de Chan Santa Cruz al principio de los 1900's al casi final de la Guerra solo hágalo download. La foto lo puede usar también.
Mi mensaje para los que no saben sobre los Mayas del norte de Belice es este: "Wayano'one, Kux'ano'on, U xamanij Masewalo'ob Belize " (We are here, we are alive, the Maya of Northern Belize.)
Muchas gracias por su contestar y por su tiempo
Kanantabaa nojoch Suku'un (Take care, big brother.)
[email protected]
August 25, 2017
Finca Solana
Corozal Town
Clinton Canul Luna's NOTE:
When I arrived in Belize, sometime at the ending of 1993, I had never forgotten my Maya people of the villages and towns of the northern part of today's Belize. There are so many things to say, but, at times we have to swallow it in order to avoid bringing back the negative recollections and feelings among our own people. The experiences I have gotten during the time of living in Yucatan, as well as during my childhood in Corozal, made me see that my people were still forgotten and used unfairly by the system. Therefore, it came to my mind to write about the direct experience of the elderly people of the villages, since I knew that they had gained a lot of knowledge from their grandfathers, who today would be our great, great grandfathers, but one of the things that did not permit me to achieve such objective was the lack of finance.
Nonetheless, I am very grateful to the Amandala for permitting me to have a space in such a prestigious and well-known newspaper of this country, which has reached beyond boundaries, to write on several issues, but most of all, that of my Maya people.
The first thing I noticed, coming back to Belize, was that my Maya sisters and brothers were ashamed of acknowledging who they were and to speak one of the most precious languages, which is our Yucatec Maya. However, with the passing of time, I have been hearing on the streets more people speaking openly our Maya language. I hope others would take the initiative that you have taken and acknowledge, not only in Belize, but to the world, that we still exist.
I know that this is a struggle of over 500 years, but our Maya brothers and sisters in Mexico have achieved recognition and respect as what we are, Maya. In several municipalities, be it in Quintana Roo, Yucatan, Campeche, etc., schools teach Maya as the first language. Their radio and T.V. stations on certain days of the week speak Maya and present artistic works, such as composers, music, singing, poetry, riddles, and other cultural activities. For example, I recently listened to a little girl of seven years old who called one of Quintana Roo's radio stations and said in Maya: "Name me something that submerges under water but doesn't get wet," which was very interesting, because, at the same time, someone was translating in Spanish. After a while, someone called in and said in Maya that it was the "sun".
For us to achieve equality in a system with a foundation that is unequal, we need to be united, and what better way than through our language and our culture. I close by saying that this door will always be open to transmit our ideas and identity.
Related Articles
Share
About Author
(0) Readers Comments