Headline
— 20 February 2016
— by Adele Ramos
BELIZE CITY, Thurs. Feb. 18, 2016–With the world's attention now focused on Zika and its possibly devastating consequences, leaders in both Central America and the Caribbean have been meeting this week to discuss their plans of action for tackling not just this emerging disease—which is suspected to have infected over a million people in the Americas since it began spreading rapidly through the hemisphere last year—but also a reconsolidation of action targeted at a well-known pest – the mosquito vector, Aedes aegypti and Aedes albopictus, since it also transmits dengue and Chikungunya, already present across our region.
Six of seven Central American countries and five of fifteen CARICOM countries have confirmed cases of Zika: 50 in Panama, 66 in Nicaragua, 105 in Guatemala, 10 in the Dominican Republic, 7 in Barbados, 6 in Suriname, and 5 in Haiti, according to the Pan American Health Organization (PAHO), which states that there has been Zika transmission reported across 28 territories in the Americas.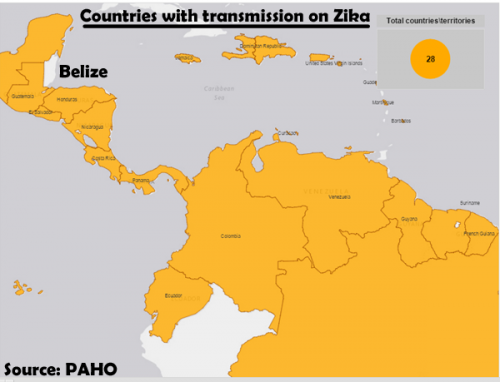 The manner in which Zika has been spreading underscores the fact that mosquitos don't respect borders, and therefore countries in the affected zone hope that concerted action will make their strategies more effective.
Earlier this week CARICOM Heads of Government, meeting in Placencia, Belize, for their 27th Inter-Sessional meeting, issued a statement outlining their course of action: "This includes continuous public education, action to implement measures at ports of entry, health facilities, schools, private enterprises such as hotels and tourism facilities, factories, other business facilities and their surrounding environs to render them free of Aedes aegypti breeding," announced CARICOM chair, Prime Minister Dean Barrow, at a press briefing on Wednesday afternoon.
Barrow said that CARICOM leaders had also agreed to designate the second week of May as Caribbean Mosquito Awareness Week.
He added that the leaders would consider "…a temporary reduction of import tax on essential public health supplies, such as insecticide-treated bed nets, insect repellents and insecticides, for the duration of the epidemic in the region." He said the Zika wave may probably last two years.
"We have asked CARPHA and the CARICOM Secretariat to report to the Council for Human and Social Development on Health (COHSOD – Health) on the implementation and effectiveness of the course of action," Barrow concluded.
Meanwhile, Central American officials were meeting in Tegucigalpa, Honduras, on Wednesday to discuss a regional strategy under the Central American Integration System (Spanish acronym, SICA), the integration movement to which Belize also belongs. Discussions were held under the auspices of the Council of Ministers of Health of Central America and the Dominican Republic (Spanish acronym, COMISCA), a SICA body.
Director of Health Services (DHS), Dr. Marvin Manzanero, who represented Belize at the meeting, told Amandala that vector control program directors and vice ministers were among those who attended the meeting.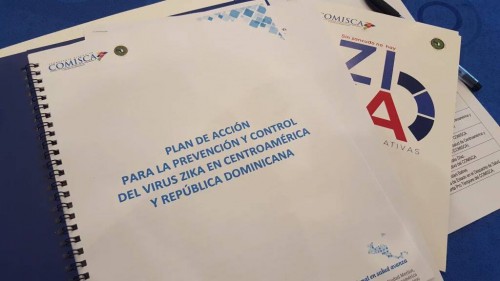 Manzanero said that they had drafted aplan to deal with mosquito-borne illnesses in general, as the general consensus is that they should not just be focusing on Zika, "because we might miss the boat entirely, when dengue has a higher mortality and morbidity and Chikungunya is still around."
There are no confirmed cases of Zika in Belize, and according to Manzanero, although Zika had been confirmed in Costa Rica, that country has indicated that there was no transmission beyond the imported cases.
The DHS said that they have decided to focus on combatting the mosquito rather that redrafting their plans every time a new virus shows up, so rather than having a Zika plan they are focused on an Aedes aegypti plan.
The other outcome of the SICA meeting is the declaration that the efforts to combat the mosquito-borne illness must go beyond the ministries responsible for health. Dr. Manzanero said that the fact that the region is grappling with dengue, Chikungunya and now Zika means that the community has not really understood the impact of having unclean neighborhoods. He gave the example of a case in which a complaint was made in Nicaragua that not enough spraying was done, but the people in the house who had complained had failed to realize that the clutter in their backyard had been providing perfect breeding grounds for the mosquito. In Costa Rica, he said, the public education campaign is focused on clean yards, and the removal of clutter to create open breathable spaces that families can enjoy.
"This is beyond the Ministry of Health, tourism, environment, police… I could not think of a single sector of the community that should not be adequately involved in the response to Aedes aegypti," Manzanero said.
Related Articles
Share
About Author
(0) Readers Comments