CHIQUIBUL NATIONAL PARK, Cayo District, Tues. Feb. 5, 2019– According to a press release from the Friends for Conservation and Development (FCD), three Guatemalans farmers were detained after they were caught in the Chiquibul National Park on Friday, February 1.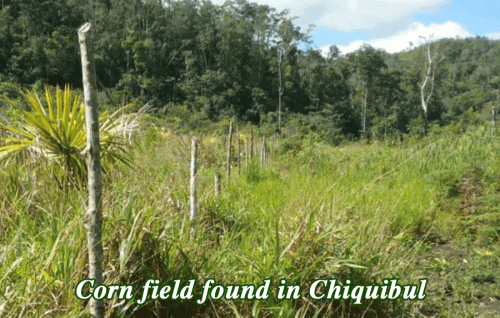 The release says that the farmers were caught during a joint patrol conducted by members of the Belize Defence Force (BDF) and the FCD in the area of Cebada in southern Chiquibul. Those personnel discovered the farmers in civilian clothes working on an agricultural field located 600 meters inside the national park.
The release mentioned that this section of the park has been altered by Guatemalan farmers who remove the trees and plants in the forest in order to plant their crops.
The three farmers had crocus bags filled with corn at the time of their detainment. The men were later identified as Mario Ramos Hernandez, 43, from Dolores, Peten; Neftali Hernandez, 42, from Nueva Armenia, Peten; and Levi Felipe Raymundo, 24, also from Nueva Armenia.
The men were informed of the offences they committed and were then escorted to the Cebada Conservation Post, then to Tapir Conservation Post, where they were fed. The following day, February 2, they were taken to the San Ignacio Police Station, where they were handed over to the police at around 3 a.m. They are expected to be charged by the Forest Department for illegal entry and illegal farming in the Chiquibul National Park.
The release ends by saying, "The area of Cebada has been steadily used by Guatemalan nationals for agricultural farming and cattle ranching. For years it has been a hotspot due to the forest degradation occurring in the region. As a result of this ongoing illegal activity, the Cebada Conservation Post was inaugurated in June of 2018. Since then the Conservation Post has been manned by Belize Defence Force, Forest Officers, and FCD Park Rangers with the aim of reducing the human footprint expansion."