Features
— 05 December 2018
— by Rowland A Parks
BELIZE CITY, Wed. Nov. 29, 2018– A 31-member delegation connected to the African Methodist Episcopal Church (AME Church) in the United States arrived in Belize today on a missionary trip and to explore the possibilities of setting up a branch of their AME Church in Belize.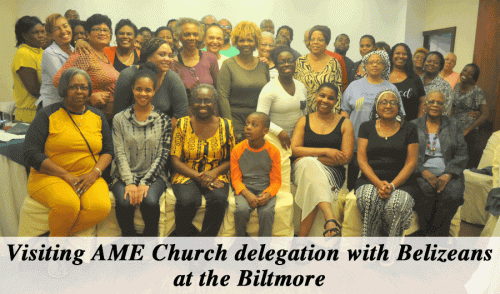 The delegation is being led by AME Bishop, Ann Heading Byfield, and Moshod Evans, the pastor of Bethel African Methodist Church in Ann Arbor, Michigan.
"The majority of those traveling in the group came from Ann Arbor, Michigan, but there are people here from Chicago, Illinois and North Carolina," Evans said. "They all paid their own airfare to come here."
Evans said that his church is a part of a larger congregation known as the AME Church, which was founded in 1787 by an African slave named Richard Allen, who purchased his own freedom and began engaging in the work of ministry, preaching and teaching the word of God.
Evans explained that Allen and 16 Africans walked out of St. George Methodist Episcopal Church, in Philadelphia, in protest over unfair treatment after they had built a balcony, not knowing that it would have been used by the whites to segregate the black members of the church. In 1816 the AME Church was formally incorporated.
Evans told us that the AME church has spread to 5 continents, including Africa, South America and the Caribbean, and presently, a branch of the AME Church is being set up in Panama. The church has a worldwide membership of over 2.5 million in 36 countries.
Evans explained that Sister Virginia Echols, a member of the AME Church, who has been living in Belize for the past twenty-five years, helped to facilitate their visit to Belize.
Evans, 40, said the mission to Belize is "to familiarize ourselves with Belize, to get to know the people, with the ultimate goal that one day we will have an AME Church in Belize." He said that Sister Echols has been speaking to Bishop Byfield, the leader of the AME Church in the Caribbean, known as the 16th Episcopal District, about the initiative.
"Since I was about 18 years old the process of wanting to be in the church and spread the gospel started," Evans said. He said he has been pastoring from 2003. "I've been pastoring since I was about 18 years old and I have traveled to Brazil, Cuba, Zimbabwe, South Africa, Liberia, Lesotho and Swaziland, to spread the word of God," Evans told us.
Related Articles
Share
About Author
(0) Readers Comments