BELIZE CITY, Thurs. May 14, 2020– Lord Michael Ashcroft appeared as a guest on News5's Open Your Eyes morning show during the show's first segment. Among the many topics the show's host, Marleni Cuellar, touched on was Ashcroft's proposal to government to invest in a cruise tourism port on lands owned by the Port of Belize Limited.
The segment of the show in which Lord Ashcroft appeared finished shortly after 7:00 a.m., and by that time, Lord Ashcroft's presence at the Channel 5 building had attracted the attention of a few members of the Federation of Cruise Tourism Association of Belize (FECTAB), as well as a stevedore/activist.
According to a live report from KREM Television News' Marisol Amaya, the few persons who came out to protest against Lord Ashcroft were maintaining the required social distancing protocol mandated by the State of Emergency regulations.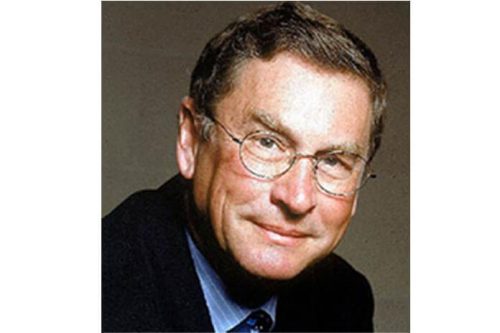 Lord Michael Ashcroft
Within a few minutes of the protest against Lord Ashcroft and his cruise ship port proposal to government through his company, Waterloo Investment, police arrived on the scene and arrested four of the protestors and another who had already left the scene.
We can confirm that FECTAB's David Almendarez was arrested, as well as the stevedore/activist Raymond Rivers, Yohni Rosado and two other men.
Police went to Yohni Rodado's house and arrested him, after he had left the scene.
Prior to the arrests, however, there were a few tense moments between Amaya and one of the police officers, who apparently did not know that the media is an essential service and had to be reminded by Amaya, who stood her ground.
One of the policemen saw a Channel 5 cameraman videoing and threatened to arrest him, "because he was outside and it's a State of Emergency."
The policeman was told by Amaya that the media is an essential service and had a right to be there "doing our work."
Meanwhile, those who were arrested will be charged for violations under the State of Emergency regulations, which can result in fines of as much as $5,000.
The arrested protestors are facing a real challenge, because under the State of Emergency regulations, the ordinary democratic rights that the Constitution of Belize guarantees are under suspension.
The Cabinet, the National Oversight Committee and the Police Department have complete control over what takes place in the country.
The KREM News live broadcast was shut down by the police. Apart from KREM News, 7News was also on hand videoing the arrests.
Feature photo: (l-r) Yohni Rosado, David Almendarez, Raymond Rivers