DROWNED CAYES, Belize District, Wed. May 13, 2020– A large Baleem male whale measuring about 50 feet in length was found dead and decomposing in the shallow waters of Drowned Cayes, off the coast of Belize City, yesterday.
Officials of the Wildlife Conservation Society who went to see the huge animal were able to observe only its exterior, but because of the creature's size, they were unable to turn it over to see whether there were injuries on it.
The officials said that they cannot conduct a necropsy to certify the cause of the whale's death.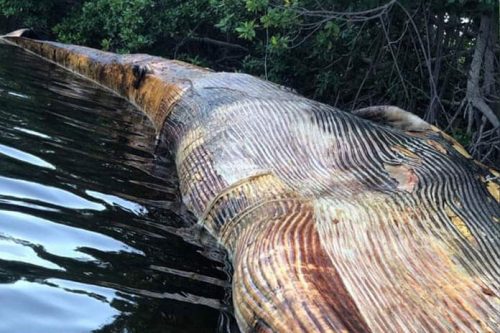 Many believe that the whale may have starved to death, but this cannot be certified. The cause of its death is therefore unknown.
The officials said that the dead animal was found in mangroves and they don't know why it was there in shallow water, because it should be in deep waters, feeding.
Nicole Gomez, an official of the Wildlife Conservation Society, reminds members of the public to call the Wildlife Conservation Society if they see these animals in shallow waters.