PUNTA GORDA–Fisheries authorities in Belize are investigating the illegal fishing of bull sharks in southern Belize after two adult bull sharks were found dead near the Joe Taylor Creek area, amid reports that 4 to 5 sharks had been indiscriminately fished and dumped, despite the fact that the season for shark fishing has been closed since August 1 – a measure imposed by fisheries managers to help ensure sustainability of the industry.
Only two species of shark can't be fished in Belize, and they are the whale shark and the nurse shark. Fisheries officials are working on putting in place size limits to further protect the industry from wanton fishing of young sharks.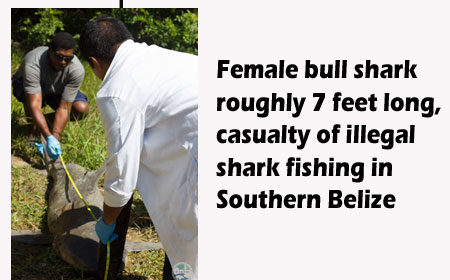 Elmar Requeña, terrestrial biologist for the Toledo Institute for Development and Environment (TIDE), reported that, "At 7:50 a.m. on the 26th August, 2014, residents from Punta Gorda spotted a dead shark floating under the Joe Taylor Creek Bridge."
TIDE's Celia Mahung told us that another dead bull shark was retrieved from the same area yesterday, and she underscores that "fishing seasons in Belize need to be respected in order for us to continue benefiting from our marine resources."
TIDE's research and monitoring team retrieved and examined the first bull shark (scientific name Carcharhinus leucas) and found that it was a mature female, 6 feet 10 inches long, which had recently given birth.
The necropsy revealed that the shark, which had been dead for a day or two before it was discovered, had a laceration in the mouth, showing that it had been recently hooked with fishing gear.
TIDE says that Dan Castellanos, a fisherman, assisted with the necropsy on the first shark, and samples of both were sent to Dr. Rachel Graham, a shark biologist in San Pedro, for analysis.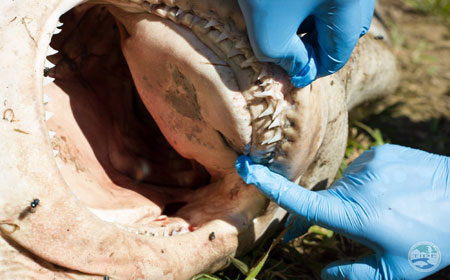 Carcamo said that the Fisheries Department will also send samples from both shark specimens overseas for further analysis.
"It is currently bull shark pupping season in Belize, and females come to the coastline to give birth; however, it is thought [that] this female was killed via fishing and dumped one to two days ago, possibly because one must have a license to fish and sell shark in Belize," TIDE said.
Although bull sharks can be harvested, they can only be fished legally between November and July, and only with a special licence from the Belize Fisheries Department, according to Ramon Carcamo, Fisheries Officer of the Capture Fisheries Unit, Belize Fisheries Department.
Carcamo said that the main market for shark exports is Guatemala, but he could not say whether the persons responsible for the illegal fishing were Belizeans or Guatemalans. It is widely reported that much of the illegal shark fishing is being done by fishers from neighbouring Honduras and Guatemala, but Belizean authorities have apparently been unable to keep them in check.
He told us that a conviction for possession of shark outside the legal fishing season could result in a fine ranging from $100 to $500, and a jail term of 6 months.
However, both TIDE and Fisheries personnel with whom we spoke, said that people in the vicinity of where the illegal shark fishing took place don't want to say what they saw.
Carcamo said that draft regulations have been developed to help protect the "large body sharks," such as the bull head, the tiger and hammerhead sharks.