BELIZE CITY, Sun. Mar. 8, 2020– A wintery dawn seemed to confirm the weatherman's insistence of bad weather for the day's historic event of the 92nd Baron Bliss Harbour Regatta. Sailed off the Digi Park in Belize City for the past few years, this annual event defiantly retains hold of a long Belizean tradition of sailing. As the wind veered to the north-east and dropped shortly after first light of dawn, the rays of feeble sunlight struggled through grey nimbus stratus.
Undaunted, the modified traditional course was laid, reduced in size and brought nearer to shore. The one nautical mile equilateral triangle was halved, so as to fit the base parallel to the shore and position the start in alignment with Pier One on the Digi Park.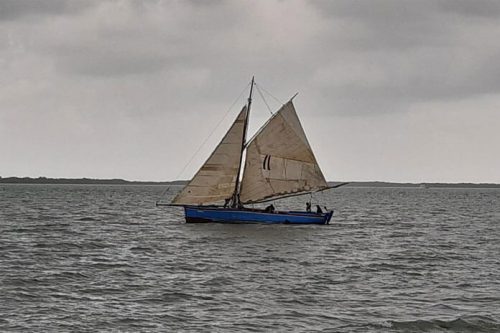 Radio, still sailing from 1885
At 9:38 a.m., the first of four Optimist races commenced after a general recall. At 10:00 a.m., the Lasers went for 4 races. These very fast and agile Olympic class sailboats, although at reduced speed due to being fitted with Radial sails, they easily caught the Optimists by the first marker. At 11:00 a.m., a single "Dart 16" ran the course uncontested. Two Bosuns of the Sea Scouts tied after two races, and the winner emerged after the third race. Threatening stormy weather kept missing the race course, but gave ideal sailing conditions.
Shortly after 11:00 a.m., the first strong rays of the sun penetrated the nimbus, illuminating the blue hull of Sailing Lighter "Radio" maneuvering into position to start. With sail reefed for the heavy weather, she fetched the windward marker and in the strong current she touched the marker. After a penalty turn, she proceeded to the reach mark a mile out, then once around the No. 2 marker, forming a loop, to finish uncontested. This vessel was launched in the year 1885 and was so named after the time's newest invention, the radio.
Patron of the Regatta is Governor General Sir Colville Young, Chairman of the Bliss Trust, who, along with Chairman of the Regatta Committee, Collet Maheia, awarded prizes as follows:
A "Perpetual Trophy" donated by Derrick Gabourel was unveiled. This polished aluminum profile of an abstract sailboat on a varnished mahogany base will carry into the future plaques with names of the winners. In a separate exercise, past races will also be researched and recorded here.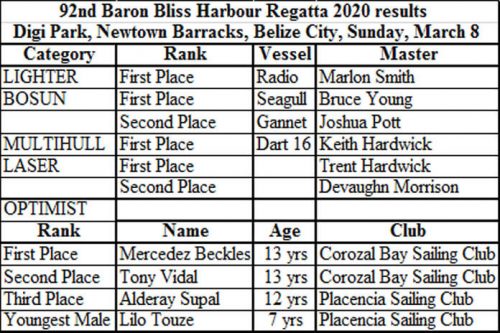 Awards: Trophies, medals and cash prizes were awarded. Prizes included Two Laser Mk2 Practice Sails and four Optimist Practice Sails.
Sponsors include: The Baron Bliss Trust, Office of the Governor General, Belize Tourism Board, Bowen & Bowen and Print Belize, Derrick Gabourel, P Noreen Fairweather and Alan Usher.
Fleet Support: Belize Port Authority provided safety, while Belize Coast Guard performed course management and signaling.
The 93rd Baron Bliss Harbour Regatta, "by command of His Excellency the Governor General," will be staged at the same venue on Sunday, March 7, 2021.
– press release –
(Amandala Sports Ed. Note: We understand that the perennial competition for Radio in the sailing lighter class, United missed this year's race as it was undergoing urgent repairs. Radio owner, Marlon Smith, Jr. said he allowed his legendary craft to do a courtesy solo-race in its working sails for a half-prize token in honor of the Baron Bliss Day tradition.)
Feature photo: At Pier One, Participants in 92nd Baron Bliss Harbour Regatta