HUMMINGBIRD HERSHEY, HummingBird Highway, Stann Creek District, Fri. July 26, 2019– Adar Adad Awe, 41, a salesman of San Narciso Street, Orange Walk Town, was driving his SUV from Dangriga to Belmopan at about 7:30 last night when on his arrival at around Mile 35 on the Hummingbird Highway in front of the Hummingbird Hershey company,  the vehicle suffered a front wheel blowout.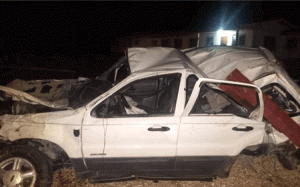 Awe lost control of the vehicle, which flipped and overturned several times. Awe and his passenger, Dario Melendez, were thrown out of the car.  He suffered massive head and body injuries and died almost immediately, while Melendez survived.
Melendez, 27, a salesman, also of Orange Walk Town, sustained injuries to his head and body. Information to us is that he suffered a broken hip, a dislocated shoulder, and a cut on his leg and on his head.
The two men were both taken to the Western Regional Hospital, where Awe was declared dead officially and Melendez was admitted to the hospital in a serious but stable condition.
The incident occurred at an area of the highway that was being repaired, and there was loose gravel. Police said that on their arrival on the scene, they saw a man who was later identified as Adar Awe at a distance from the badly wrecked vehicle, lying motionless on the ground, and another man was seen on the ground at a distance from the vehicle; he was identified as Dario Melendez.
Police are investigating the accident.