BELIZE CITY, Tue. July 25, 2017–The Ahmadiyya Basketball League sent two teams to the Copa Cancun 2017 tournament, which was held in Cancun, Mexico from the 20th – 23rd July.  The teams where U-17 and U-19 males, and they had to compete with teams from all over Mexico, as well as teams from Guatemala.
Our U-17 team played 6 games, won 5 of them, and lost in the semifinal round.
Our U-19 team also played 6 games, and won them all, including the explosive championship game against the more favored team from Cancun.
Our home-boys brought home the championship hardware and represented us well; and for that, let us congratulate the team coaches, Mr. Dion Ramclam and Mr.  Jamel Wagner, Mr. Brads Neal and all our sponsors.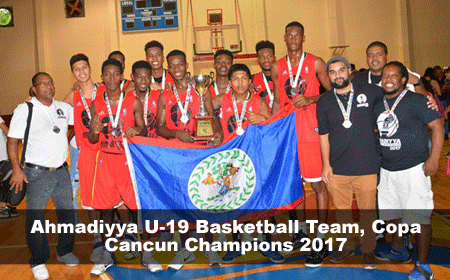 (Sports Ed. Note: The Ahmadiyya Basketball League earlier this year concluded its U-19 basketball tournament at the Gateway Youth Center basketball court on Gwen Lizarraga High School compound. Congrats to the Ahmadiyya Basketball League organizers, players, coaches and sponsors on this great achievement!)