ORANGE WALK TOWN, Mon. Sept. 24, 2018– On Sunday morning, just before daybreak, a fire began raging at the Petillo family's house, located at corner of Progress and Cinderella Streets in Orange Walk Town. By the time firefighters arrived, there was nothing that they could have done to save the lives of a father and his three children who were trapped inside the burning house. They were all incinerated:  Kevaughn Clare, 14; Mia Petillo, 10; and Jada Petillo, 12. Only the mother of the kids and her youngest child made it out alive.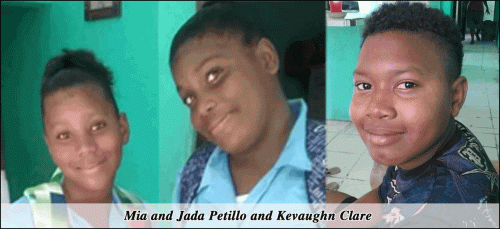 This morning, some members of the Petillo family looked on as workers cleared away the debris from the spot where the family home once stood.
Zelda Bowen, 31, stood gazing at the work that was going on, as she held her surviving child close to her and prepared to speak to reporters.
Bowen explained that her family had gone out to a family gathering and returned home sometime after 3:00 a.m. "Everybody gone da bed," Bowen said.
Speaking about her common-law husband, Alfredo Petillo, who died in the fire, Bowen said, "I was asleep when he wake me up, saying 'babe, smoke, fire, fire get up'."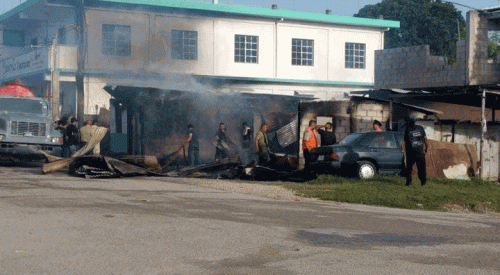 Bowen explained that, "He managed to stamp down the barber shop door [attached to the house] and get me and my baby out."
"Then we heard the little girl shout-out 'dad,' and he went back inside," Bowen said.
Bowen said, "That was the last time we heard or saw anything; they never did come back out, the four of them."
We asked Bowen to comment on the response of the Fire Department.
"Dem no do dem job no at all. We kept calling and calling and eventually, my brother-in-law had to catch a vehicle and went to the fire station to hail them and wake them up, and he got back and the fire truck still never reach," Bowen explained.
Bowen said the fire station is not located too far away from her home.  "It's right here by the stop light, nowhere far," she said.
"When they were coming here, they did not have on no siren and no lights; it's like they were cruising to get here," Bowen said.
"When they reach here, they had less than 5 minutes of water and when the next truck came, it didn't have any water," Bowen revealed.
Bowen explained that when the first truck came and ran out of water, her family members were still moving. "There is a fire hydrant here, but WASA came and turned it off," Bowen said.
Bowen went on to explain that Denny Graijalva was the one who used his water truck to help put out the fire.
Graijalva helped to move the bodies, Bowen said.
Bowen said her common-law husband, Petillo, had often said that if any catastrophe happened, he would die with his children.
"And that is just how he died, with his arms around the children," Bowen revealed.
Bowen said that she has been living at the address for 14 years and at the present time, she is receiving shelter at her in-laws.
We asked Bowen if she found out what was the cause of the fire, but she told us that a fire official from Belize City went to examine the burnt remains of the home and he told her that he found something that melted on top of the stove, but she disputes the fact that the stove was on.
We asked Bowen if she has gotten any kind of help or counseling.
"Mr. Denny Graijalva helped out with that," Bowen replied.
Three months earlier, in June, a fire on San Pedro similarly consumed the lives of four persons. The two fires appear to suggest that the country is in need of modern firefighting equipment. The National Fire Service's Orange Walk Town branch has two trucks; together they have a capacity of only 600 gallons of water.
Norma Petillo, 33, a relative of Petillo whose birthday was yesterday, Sunday, told us that the house was not insured and that the cost of the damage caused in her section of the house, is in the $40,000 range. Petillo said, "no insurance company wanted to insure this place."   "I feel like I am reborn again, because I am still alive," Petillo said.
Petillo said that she learned about the fire when some of her friends came to sing "mananitas" (singing for someone celebrating a birthday).
Petillo said that another family consisting of two children and two adults lived in her house. "My friend was screaming for me to come out the house," Petillo said. That friend, her husband and their two children were able to make it out safely.
In an interview with reporters this morning, Orange Walk Town mayor, Kevin Bernard, said it was very sad to wake up to the very dismal news yesterday morning.
"Four lives have been lost — three young children along with their father. The community is really shaken up. As a town council, we find it very sad that a family has lost loved ones," he said.
Mayor Bernard said the fire brings us back to reality. "There is really a need to focus on the necessities and needs of our country. Emotions are very high right now; even the politicians are being attacked in Facebook posts," he said.
"There needs to be some improvement at the Fire Department; we've seen it in Belize City and we're seen it in San Pedro. The equipment we have are just not adequate enough to deal with these types of situation. If you look at Orange Walk Fire Department, we have two trucks, but the capacity of those trucks are very limited. The heat that that blaze was pushing, it would have taken that truck about 15 trips to quell that fire," Mayor Bernard said.
"Orange Walk has not had a good fire truck for a long time; this drives the point home. We are a big district; if there was a fire happening at another village, how would we have reacted, would more lives have been lost? We need adequate fire trucks. One of the two trucks that we have is almost non-operational," he said.
We have learned that one of the two trucks at the Orange Walk Town Fire Station is a 1991 model and the other is a 1995 model, he added.
This afternoon, Fire Chief Ted Smith described the Orange Walk Town fire as being in "free burning stage."
The Fire Chief said that since the San Pedro fire, they have gone back to the drawing board and are now emphasizing the importance of fire detectors and proper exits.
Smith said that they have reconstructed the scene and what they believe are certain processes that if they were in place, could have saved lives.
Orin Smith, fire investigator, did a PowerPoint presentation and concluded that the fire started in the kitchen area of the house, at the stove.
Smith said that the stove was in the immediate area of the only exit of the structure. Smith explained that at some point in time a barber shop was added to the structure, and that was the section where the father had to remove to get his wife and young child out, through the barrier that locked off the barber shop from the rest of the house.
Smith said that a 100-pound butane tank was blowing fire across the house. The Fire Chief explained that the transparent plastic tubing is not safe: "if it was copper tubing, it would not have been compromised so easily. Also, if two exits were available, we would not have the result that we have now," Smith said.
The Fire Chief said that the department does not recommend transparent tubing. "We recommend copper tubing," he stressed.
Smith said that when his firemen arrived at the building, the father of the kids (Petillo) had already gone back inside the building.