BELIZE CITY, Thurs. Sept. 7, 2017–With the departure of Court of Appeal justice Christopher Blackman, there is a vacancy for a new judge, and reports to our newspaper indicate that the Government wants to appoint Jamaican lawyer Franz Parke to the post.
Parke was appointed to the Court of Appeal back in June 2015, but indications are that the appointment was temporary. At the time of his swearing-in, it was reported that he had been admitted to practice law in both Jamaica and the United States.
We have not found any record of anyone publicly raising any objection then, but the Bar Association of Belize and the Opposition People's United Party are now opposing his new appointment, as questions are being raised over whether the attorney is qualified to sit on the Belize Court of Appeal.
Opposition Leader Johnny Briceño has said that they see nothing to support the intended appointment, and the Government has refused to give any evidence of the attorney's qualifications.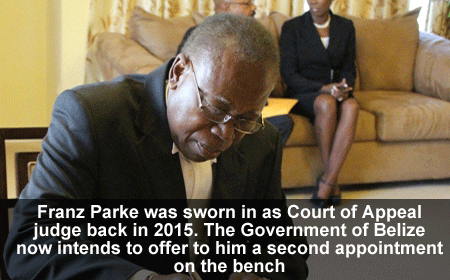 In a press release issued this week, the Bar Association says that Parke does not meet the qualifications stipulated in the Belize Constitution. Specifically, the proposed judge should have been serving for at least 15 years as a judge within the Commonwealth jurisdiction or be qualified to practice law in Belize.
The Bar considered the issue at a meeting held on Tuesday, September 5, and determined that Parke does not meet the requirements, as he is not qualified for that position.
At the time of Parke's 2015 appointment to the Belize Court of Appeal, an official news release said that Parke had served as Crown Prosecutor in Jamaica from 1975 to 1980 in the Office of the Director of Public Prosecution, and in 1990, he began to work in Florida as an Assistant State Attorney in the Dade County State Attorney's Office, where he remained until 2001, supervising division prosecutors responsible for prosecution of third degree felonies through life felonies. They said that he also served as a prosecutor for homicides.
Then in 2002, he continued his private practice defending federal and state criminal cases in the United States and additionally, handling family and civil litigation cases, and in 2008, he began work as an Assistant Regional Counsel in Criminal Defense in Dade County, Florida.
The release also said that Parke holds a Bachelor of Science Degree in Accounting and a Bachelor of Laws Degree from the University of West Indies, as well as a Certificate of Legal Education from the Norman Manley Law School and a Juris Doctorate from Nova University Center for the Study of Law.