BELIZE CITY, Mon. Nov. 30, 2015–On Saturday, the president-elect of the Republic of Guatemala, Jimmy Morales, who was visiting SICA member states, paid a courtesy call on Belize Prime Minister Dean Barrow at his Belize City Coney Drive office. Although the Belize Government knew well in advance, from November 6, that Morales would be visiting Belize, this was kept as a kind of state secret – even the location of the meeting was not disclosed to the local media.
A small group of nationalistic Belizeans, however, got wind of the location and decided to stage a protest against Morales' visit due to menacing remarks that he had made about his country's claim to Belize during his campaign for the Guatemalan presidency.
Morales was quoted as saying that the loss of Belize was "the most deplorable event in Guatemala's history."
"…we are about to lose Belize. We have not lost it yet. We still have the possibility of going to the International Court of Justice, where we can fight [for] that territory or part of that territory," Morales reportedly told a Guatemalan reporter in September before he won the second round of voting in Guatemala's presidential elections on October 25.
It is against that backdrop that Geovanni Brackett, the president of Citizens Organized for Liberty through Action (COLA); Kremandala's Ya Ya Marin-Coleman, the host of KREM Radio and TV's Sunday Review and UBAD Education Foundation (UEF) chairperson; Wil Maheia, the founder of Belize Territorial Volunteers and the Deputy Leader of the Belize Progressive Party; Patrick Rogers, the Belize Progressive Party Leader; and Rosalie Staines, the host of Open Paki, decided to protest Morales' visit.
As the protesters saw the Ministry of Foreign Affairs Protocol vehicle approaching on Coney Drive, they sprang into action with their bodies and their banners.
The plan was simple: to lie in the path of the oncoming vehicle – an acceptable form of protest all around the world.
Not only that, Part 11 of the Belize Constitution guarantees the "Protection of Fundamental Right and Freedoms," which includes the "Protection of Freedom of Conscience" and the "Protection of Freedom of Expression."
Their protest, however, was short-lived. In fact, only one protestor managed to lie on the ground, and that was Ya Ya Marin-Coleman.
The protest was captured as it unfolded by 7 News and another videographer, and was posted on social media. Both the news station footage and the video went viral. Together, they were viewed by over 50,000 persons as of today.
The video shows Ya Ya being dragged on the pavement by policemen.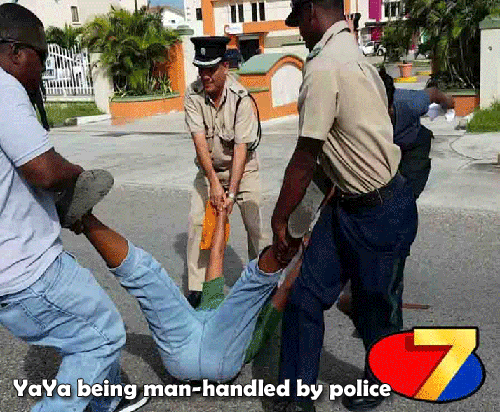 And as Geovanni Brackett moved toward the approaching vehicles, a heavily armed Gang Suppression Unit (GSU) police officer charged into him, pushing him toward the side of the street, where he was forced to lie down, as he was surrounded by more heavily armed GSU police officers, who had their big guns pointed at him.
The other protestors were not shown in the videos. The GSU eventually ordered Brackett to get up and he was taken to a pickup truck, against the shouts of Ya Ya, "If unno wan ker da bredda, unno have to ker me too."
Ya Ya was pulled away by a GSU woman police, as Brackett was made to climb into the pan of the police pickup truck and was driven away.
In an interview with Amandala this evening, Ya Ya explained that their situation was not different from the encounters that most Belizeans have with our security forces.
"The question is, how you determine the amount of force based on the situation? How do you measure it? What kind of training do they have? Who are the people who are training them?" she questioned.
Ya Ya said that the security forces are terrorizing the people. She explained that a police officer was shadowing her every move. "So when I saw Geovanni make his move, I know it was time for me to make my move," she stated.
"The police officer that was next to me turned, and I turned, an both of us was like in a squat position, and we laughed. Everything happened so quickly. This was like the perfect storm," Ya Ya said.
"In my peripheral vision I saw an officer or two coming toward me, and I knew that they were coming for me. And right then, I saw the protocol vehicle. So I was like, Ya Ya, you wan can't mek it to where you suppose to go lie down," she recounted.
"It was like perfect, I just lie down. When I lay down, I had on a backpack, so when I lay down the backpack actually gone through my leg. The officers freeze. I don't know what their training was," Ya Ya explained.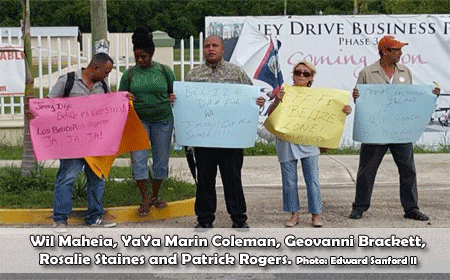 Amandala asked Ya Ya how close the protocol vehicle was to her, when she decided to lie down in its path.
"Dangerously close," she replied, as she pointed out a distance that was a little over one yard in measurement.
Ya Ya explained that the sign she was carrying, which read: "Ya Da Fu we Belize," was in a balanced, upright position between the protocol vehicle and the sidewalk.
So how significant it was for you to confront the Guatemalan president-elect with your sign stating "Ya Da Fu We Belize?" we asked her.
Ya Ya explained that in hindsight, "These solo flights are dangerous moves to make. There has to be more organizing and planning."
While the police never arrested her, Ya Ya said she was challenging them to arrest her, especially when they arrested Geovanni.
"Because in this kind of situation, you never let your brother or sister go by him or herself, because they could beat him, they could kill him. So I was agitating as best as I could for them to carry me. So I decided that if I call them a name whe dem call them in the street, they might just say, kerr ie ass, man," Ya Ya said.
"But not even that mek dem kerr me, and besides, I wan go si the condition ah the piss house," Ya Ya added.
"I no have a ounce a fear inna me. Like a lot of us, they are just mentally enslaved, I no give up on them, but we have to work on them. It is what it is," said Ya Ya.
"Ah di read wan book right now, Uhuru na Umoja, by Julius Nyerere. Man, if fu we Prime Minister da mi wan leader like this bredda, da man [the Guatemalan president] no even come inna this country," Ya Ya said.
"I no tek this lightly, the love I feel from my Belizean people out deh, I would a dead for. Not that I de hurry fu dead," she said.
Ya Ya explained that the social activists in Belize need to get organized.
Barrow had explained that Morales had backtracked from his campaign rhetoric about Belize, but he has not provided any evidence for that assertion, she pointed out.
Geovanni Brackett, who had spent two hours in police custody but was not charged with any offense, said someone mentioned to him that he was taken in as a form of preventative detention.
"There was by far more policemen than protestors, yet the GSU used M4-Carbines and other heavy weapons; if we had more protestors out there, people could have been killed, out of fear and out of a lack of discipline on the part of the GSU," Brackett said.
"I don't know if the head of the GSU need to prove his loyalty to the government; however, we at COLA need to state our point. Of course, I wish we had more time to mobilize," Brackett emphasized.
Brackett pointed out that once he was moved out of the hands of the GSU and put in the hands of the regular police, "they treated me good."
Brackett said he was taken to the Queen Street Police Station because the police might have been thinking that he was the leader. He explained that three attorneys went to the police station to check on him – Kareem Musa, Arthur Saldivar and Philip Palacio.
"Considering that this guy's statement about Belize was rogue and his country's behavior towards Belize is rogue, his visit should have been announced. We were displeased about it and hence the reason why we went out to protest," Brackett explained.
Asked if he is planning on doing anything about the apparent violation of his rights to protest, Brackett said, "the plans are fluid and we will make them up as we go along."
Brackett said the idea to launch the protest was Wil Maheia's idea, but the idea to lie on the ground was his.