BELMOPAN, Thurs. May 30, 2019– The Belize Billiards Sport Federation (BBSF) held two grand tournaments in Belmopan at Mike's Cue Club on May 25 and 26. Below are the results:
BBSF Classic (In memory of Angel "Chips Man" Vargas)
A total of 47 players from throughout the country participated in the single-man, race to 3, 8-ball Classic. The champ is Larry Lisbey of Belize City (prize: $1,200 + trophy), while Luis Valdez of Corozal (prize: $600.00 + trophy) was the sub-champ. Larry was undefeated going into the final, so Luis had to beat him twice to be the champ. It was a tall order, but Luis gave it an enormous effort, as he won Larry in the first set; but Larry was successful in the second set and was declared the champ. Ranking 3rd place was Nain Rosado (prize: $300.00), and 4th place was Johnny Betancourt (prize: $100.00).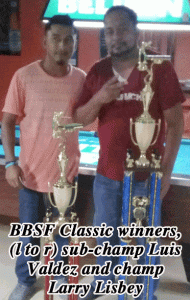 U-19 8-Ball
A total of six players registered for this annual tournament. It was single-player, race to 3. Emerging as champ was Ailton Linarez (prize: $300.00 + trophy); sub-champ was Elvis Yam (prize: $200.00 + trophy); third was Immer Lima, who was the defending champ (prize: $100.00).
It was surely an exciting weekend of Billiards. The BBSF thanks sponsors: Gold – Mike's Cue Club; Silver – Kuylen Gas Station, Triple R Trophies, ALG Reggae Warriors, Morales Transports, Hon. John Saldivar, The Trophy Depot, Belize Road Way Contruction; Bronze – Codds Drugstore.