Photo: #55 Tennessee shirt – Dominic Woodson – new player for Griga Dream Ballers
BELIZE CITY, Thurs. Mar. 2, 2023
On Friday night at the Belize City Centre, Orange Walk Running Rebels' head coach, the irrepressible Troy Gabb, Jr., is predicting that his team will break its 2-game road losing streak against the Belize City Defenders, one of the BEBL's 2023 tournament co-leaders, who has yet to lose a game at home.
A confident Gabb was near ebullient that they finally have their entire team healthy and in Belize, and that his imports James Stanback and Bryan Hudson have fully recovered from a serious bout of food poisoning, particularly Stanback who leads the team in scoring.
Their opponents, the Defenders, will be without their perennial standout Devon Daly whose recovery from surgery to repair a torn patella tendon will be long and painfully slow. He suffered the injury 2 games ago just as it appeared that he was rounding into shape.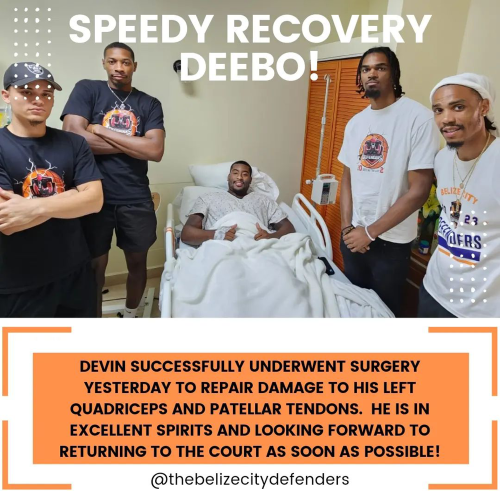 The Defenders are resigned to him being out for the rest of the season and have brought in Lorenzo "Lolo" Dillard as his replacement, and his play is widely credited with their victory over their City rivals Benny's Hurricanes in their last game.
Benny's Hurricanes have listed Alex Carcamo and Kirk Smith, Jr. on their final roster since by the weekend after next, they will have served 4-game and 7-game suspensions, respectively, and would be eligible to play.
In their matchup against the surging Griga Dream Ballers on Saturday night at the Russell Chiste Garcia Auditorium in Dangriga, where their Victor Evans had a groin pull, it is not enough to keep him out of the line-up, and sparkplug guard Glency "Coope" is recovered from a nasty gash in his forehead that required two stitches to close. It was the result of an inadvertent elbow in their last game, a loss to the Defenders.
Griga, however, will be at full strength with the news circulating that they had succeeded in bringing in Dominic Woodson, a 6' 11″ center who has played in semipro leagues such as The Basketball League, USA; the Costa Caribe League, Nicaragua; and the FIBA Americas League for Men's Clubs in El Salvador.
They have also welcomed back Daniel Conorque who was a standout player for them in previous seasons.
Also on Saturday night, the league's cellar dwellers Punta Gorda Panthers will welcome the Belmopan Red Taigaz to the PG Sporting Complex. The Panthers are financially troubled and the Commissioner's office has stepped in to assist.
Earlier this week it was reported that their head and assistant coaches had quit due to non-payment, they had lost a player to the Western Ballaz, and had been locked out of the auditorium, also due to non-payment for its use.
As of press time there was no word as to whether head coach Raymond "Spy" Sanchez and assistant Michael "Chips" Norales had returned to the bench, but a deal had been brokered with the National Sports Council which will allow the team to continue to host games at the auditorium.
San Pedro Tiger Sharks will travel to play the Western Ballaz at San Ignacio's Sacred Heart College Auditorium on Friday, March 4, for what Sharks' Head Coach Rico Black hope will be their last road game in weeks.
He is confident that his team, presently mired near the bottom of the table, will still be competitive despite the season long absence of his big man Martevuius Adams and having had to play all their games so far on the road. Black is buoyed by the return of Andrew Vasquez and Ashton Edwards, as well as the partial recovery of John Kelly from injury, and the fact that they will finally get to play their long-delayed home opener on Saturday, March 12 at their San Pedro High School home court versus the Belize City Defenders.
Belize Elite Basketball League 2023 Tournament Standings

* San Pedro Tiger Sharks vs Belmopan Red Taigaz (Cancelled)
Weekend schedule:
Fri. Mar 3, 2023: 21. Belize City Defenders vs Orange Walk Running Rebels (Belize City Center). 22. Western Ballaz vs San Pedro Tiger Sharks (Sacred Heart College Auditorium).
Sat. Mar 4, 2023: 23. Griga Dream Ballers vs Benny's Hurricanes (Russell Chiste Garcia Auditorium). 24. Punta Gorda Panthers vs Belmopan Red Taigaz (PG Sporting Complex).