Photo: Orange Walk Running Rebels' fleet of 747 widebodies (l-r) Elvis Olivera #14, Brian White #1 and Matthew Young #34
Week 6, Fri. Mar. 3, 2023: (Results) Belize City Defenders 85, Orange Walk Running Rebels 91, (Belize City Centre); Western Ballaz 96, San Pedro Tiger Sharks 87, (Sacred Heart College Auditorium).
Sat. Mar. 4, 2023: (Results) Griga Dream Ballers 85, Benny's Hurricanes 76. (Russell Chiste Garcia Auditorium); Punta Gorda Panthers 91, Belmopan Red Taigaz 106, (PG Sporting Complex).
Week 7, Fri. Mar. 11, 2023: (Schedule) Griga Dream Ballers vs Western Ballaz (Russell Chiste Garcia Auditorium); Benny's Hurricanes vs Belmopan Red Taigaz (Belize City Centre).
Sat. Mar. 12, 2023: (Schedule) San Pedro Tiger Sharks vs Belize City Defenders (San Pedro High School); Orange Walk Running Rebels vs Punta Gorda Panthers (OW Multi-Purpose Complex).
Orange Walk Running Rebels shock Belize City Defenders
Belize City Centre, Fri. Mar. 3, 2023
The Orange Walk Running Rebels became the first district team to topple one of the Belize City BEBL tournament co-leaders when they overtook the Belize City Defenders on their Belize City Centre home court in the fourth quarter and recorded a stunning 91-85 victory.
It was the Defenders' (4-2) first home court loss and the Rebels' (3-3) first road win. The Defenders and the Rebels traded blows for nearly the entire game with the home team having the better of most of the exchanges until halfway through the fourth quarter. There were several ties but no lead changes until, with a little more than a minute into the fourth quarter, when the Defenders had their largest lead, 8 points, 75-67, but were outscored 24-10 the rest of the way.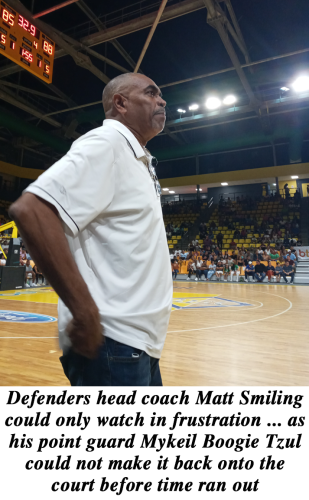 Their head coach Matthew Smiling substituted for lead guard Mykeil "Boogie" Tzul when he thought he had picked up his fourth foul, and the offense sputtered with less than a minute to go and trailing by 3 points 85-88. He was unable to get back into the game and the scoring drought may've cost them the game.
Defenders' Nigel Jones had a very stealthy but efficient game, registering 23 points, 10 boards, 3 steals and 3 blocks. Lorenzo "Lolo" Dillard led his team with 25 points (11-14 from the line), but Orange Walk keyed on him.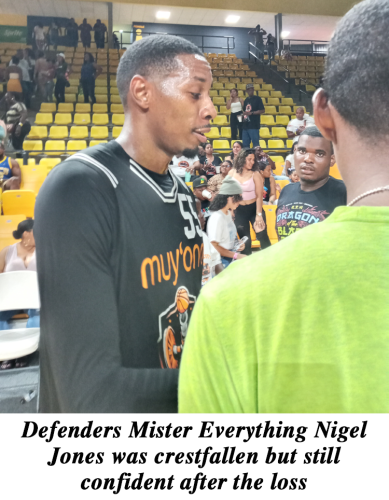 The Rebels' import James Stanback led all scorers with 30 points, but it was the play of Brian "747 Wide Body" White in the middle (20 points, 14 boards), and his substitutes, the equally wide-bodied "Bruise Brothers" Elvis Olivera and Matthew Young, that proved the difference for an ecstatic Troy Gabb, Jr.
The Rebels' guards, Bryan Hudson (4 fouls, 3 turnovers, 0 points in less than 5 minutes) and Tyron Hall (4 fouls, 5 turnovers but 17 points), and Dedron Baptist (2 fouls, 3 points in 7:34 minutes), effectively harassed and contained Dillard.
It is a telling stat that both the Defenders and the Rebels could only muster 11 and 10 assists, respectively, on 31 and 33 baskets.
Western Ballaz 96, San Pedro Tiger Sharks 87
San Ignacio, Fri. Mar. 3, 2023
Western Ballaz snapped a 3-game losing streak with an emphatic 96-87 win here at their Sacred Heart College Auditorium home court over the nomadic San Pedro Tiger Sharks, one of the BEBL 2023 tournament's 2 cellar dwellers.
The Ballaz evened their record to 3 wins at home to go with 3 losses on the road, whereas the Tiger Sharks, who have yet to play at home in on San Pedro, fell to 1 win and 5 losses, all on the road.
The Ballaz, who have been besieged by injuries to several players the past month, finally had their entire squad except one suited up, and immediately jumped to a lead they never relinquished before the final buzzer.
Griga Dream Ballers 85, stun Benny's Hurricanes 76
Dangriga, Sat. Mar. 4, 2023
Griga Dream Ballers introduced two new players into their lineup and stunned the league- leading Benny's Belize Hurricanes here at the Russell Chiste Garcia Auditorium 85-76 tonight.
An SRO crowd quickly filled the auditorium where the Dream Ballers have yet to lose at home, and soon their drums and cheers easily drowned out the flutes and horns of the two busloads of Hurricanes' fans that had made the trip from Belize City.
Griga also unveiled their latest import, Dominic Woodson, who is huge, likely the largest player in the league at this point, and his impact was immediate. He is undoubtedly fundamentally sound, recording the game's first basket, first rebound, and first assist.
Midway through the first quarter, Griga took an 11-10 lead and was never caught again.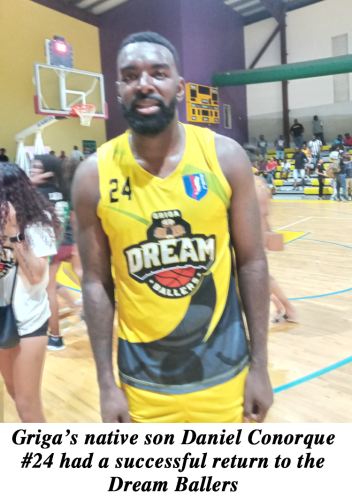 Woodson may be a little out of shape, and Head Coach Derrick Morgan pulled him at the end of the first three quarters and for the first several minutes at the start of the fourth. Each time he left, the Ballers had a sizeable lead, at one point by 25 points, that the Hurricanes were able to whittle down at one point to just 4 points in the fourth before he returned.
The game also saw the return of Daniel Conorque, who has a complete game, and sparkling play from Edgar Mitchell and Delvon Henderson, no doubt buoyed by the home cooking, but more likely Woodson's positioning, locking down the paint, setting screens, passing, and so on.
Griga registered 23 assists, 11 steals, 4 blocks, 17 fouls, and 11 turnovers, while the 'Canes could only record 7 assists, 5 steals, 0 blocks, 17 fouls, and 20 turnovers, though they outrebounded their opponents 43 -31.
The Hurricanes got nearly all their points from guard Victor Evans (22 points), center Jamal Harris (16 points, 3-4 from deep), forward Akeem Watters (12 points), forward Raheem Thurton (9 points), and forward Kris Frazier (10 points and 8 rebounds). They were without the services of sparkplug Glency "Coope" Lopez, who made the trip but may still be feeling the effects of a concussion and has a sore arm.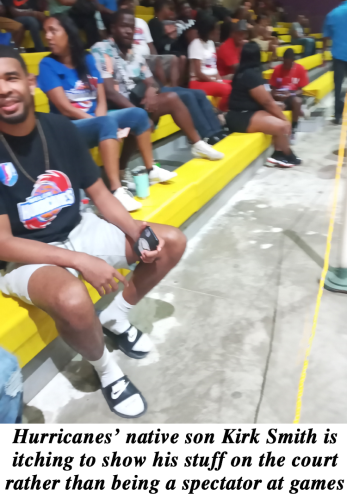 They were also without Kirk Smith, Jr., who watched the game from the seats, eager to play but waiting out a seven-game suspension that expires after the next game.
Alex Carcamo did not make the trip and may not be in Belize. He too is being voluntarily held out for 4 games according to Hurricanes management, and will return after their next game.
Belmopan Red Taigaz 106, Punta Gorda Panthers 91
Punta Gorda Town, Sat. Mar. 4, 2023
The BEBL's most porous defence met the stingiest, and when the last buzzer had sounded from the game between the League's youngest teams, the winner had amassed the highest point total yet this season.
Belmopan Red Taigaz prevailed 106-91 over hosts Punta Gorda Panthers at the PG Sporting Complex Saturday night in a highly entertaining game. The win launched the visitors into playoff contention while the losers remained mired in last place.
The Red Taigaz was able to withstand a tournament high 43-point barrage by the League's leading scorer Tavian Davis, and sprint to the finish line after the Panthers saw Kyle Miller, their third coach in three games, ejected halfway through the third quarter. A relatively close game, at that time a 3-point lead, then became somewhat of a laugher as temporary captain Elvert Ariola had to serve as player and coach.
Tavian Davis also shot a sparkling league-high 6-12 from downtown, while his teammate Julien Travis contributed 14 points.
Jerimiah Toney's 27 points (11-15), and Benjamin Page's 25 points (10-12) led the Belmopan young guns, who also had 7 other players score.
BEBL weekend games preview:
It is possible but not likely that this weekend's 4-game slate could produce a six-way tie for the tournament lead in the standings if the 4 leading teams should lose.
On Friday night, March 11th, the Griga Dream Ballers will welcome a revitalized Western Ballaz to the Russell Chiste Garcia Auditorium in Dangriga. The Dream Ballers, with a week's worth of practice and a game under their belts with new additions, are confident it will be enough to hold off the Western Ballaz, who have found nothing but adversity on the road.
At the Belize City Centre, the BEBL's highest scoring offense, the Benny's Belize Hurricanes, will welcome the tournament's stingiest defense, the Belmopan Red Taigaz.
On Saturday, March 12th, the San Pedro Tiger Sharks will host their first home game of the season at the San Pedro High School auditorium when they welcome the league's co-leaders, the Belize City Defenders.
Saturday night will also feature a head-to-head matchup of two of the tournament's scoring leaders when the Orange Walk Running Rebels and James Stanback host the Punta Gorda Panthers and Tavian Davis at the Orange Walk Multi-Purpose Complex.
Tavian Davis (Panthers), with 30 points per game (ppg); Mark Gordon (Ballaz)—28.4ppg; Nigel Jones (Defenders)— 24.8ppg; James Stanback (Rebels)— 24ppg, and Jeremiah Toney (Red Taigaz)— 23.8ppg are currently officially listed by the BEBL as the tournament-scoring leaders.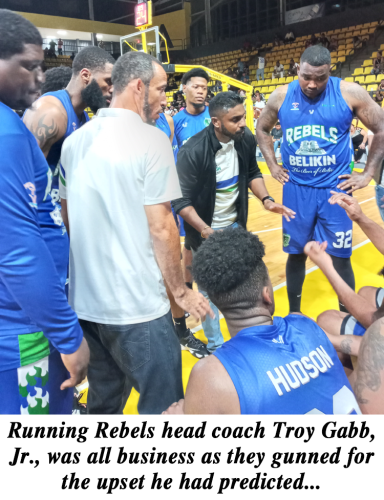 The Rebels are surging with a 3-game home winning streak after enduring 3 consecutive road losses.
The struggling Panthers will make the trip north and will likely be led by their fourth head coach in as many games.