BELIZE CITY, Mon. Aug. 13, 2018– The Cycling Federation of Belize (CFB) today reported that Team Belize has brought back medals from the 2018 Junior Caribbean Championships which took place over the weekend, August 11-12, in Bermuda.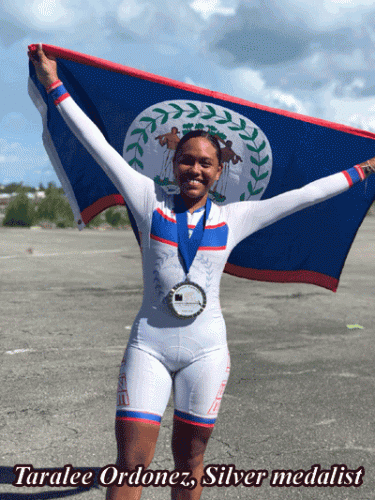 In the ITT results from Saturday, August 11:
In the Female race of 6.4 miles (2 laps of 3.2 miles each), Taralee Ordonez won the Silver medal with a time of 17:21:968; while Kaylyn Gillett finished 5th in a time of 18:30:266.
In the Male Junior race of 12.8 miles (4 laps of 3.2 miles each), Gian Lino finished 8th, and Tevin Chaplin was 11th.
The Road Race on August 12 was 50 km for females, and 80 km for males.
CFB President Orson Butler reports:
"Today, both our Female and Male Junior riders took part in the 2018 Junior Caribbean Championships in Bermuda.
"The Females rode a total of five 10-km laps, for a total of 50 km. On the first lap, all riders were together; but on the second lap, Alyssa Rowse of Bermuda and Taralee Ordonez rode away from the crowd. However, up one of the climbs, Taralee experienced mechanical issues and was left behind. Taralee and the Jamaican rider then separated themselves from everyone else, and started the chase. Unfortunately, on the last lap, Taralee crashed out and was rushed to the hospital via ambulance. She underwent X-rays and was cleared and released. While that was happening, Kaylyn Gillett of Belize rode away from the rider out of Aruba, and secured herself a podium finish, winning the Bronze medal."
In the Junior Male race of 80 km, Gian Lino was 9th; Tevin Chaplin was 14th; and Patrick Williams was removed after the fourth lap.