BELIZE CITY, Mon. Feb. 1, 2016–Prime Minister and Minister of Finance Dean Barrow returned to Belize on Sunday after leading a high-level delegation to Washington, DC, USA, last week to confront what he had previously described as an "existential threat" to Belize's banking sector, because banks in the US which have been helping to facilitate money transfers for Belize continue to sever relations with Belize.
Bank of America began pulling out last April, and Community Federal Savings Bank, a smaller bank which had been facilitating some local banks with transactions, including credit card settlements, has given notice that it will soon sever relations with the Belize banks. Our reports are that three banks, the Belize Bank, Heritage Bank, and Choice Bank (an offshore bank), could be affected, but the banks continue to pursue alternative arrangements.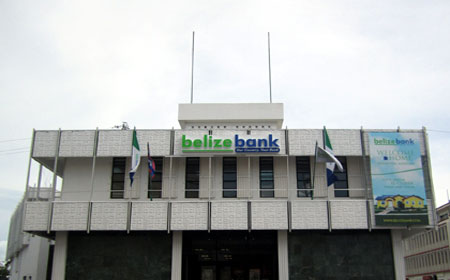 We were reliably informed today that the Belize banks may not be severed as quickly as had been indicated, and the credit card companies may work out an accommodation, at least for the meantime, to assist the Belize banks. Talks are expected to ensue in the weeks ahead.
"None of our domestic banks is at this moment completely without a correspondent banking relationship. So no Belizean customer of any bank need think about not continuing to do business with that bank because of a fear that the bank will not be able to facilitate the transfer of money abroad. All of our banks currently still enjoy some form of a correspondent banking relationship," Barrow affirmed, in a press conference held this morning at the Belize Biltmore Plaza Hotel in Belize City, at which he detailed the outcome of his mission to Washington.
Barrow said, though, that some banks have been losing their correspondent banking relations with US banks, and "there is an indication that those losses could continue; hence our reason for going to the United States," he added.
Firstly, he said, they have been assured by Thomas Curry, the Office of the Controller of Currency (OCC), that, "There is nothing wrong with the BZ jurisdiction."
Thomas Curry, US Comptroller of the Currency
If the banks had indicated that they will stop doing business with Belize, it is not because of any pressure from the OCC, as regulator, Barrow said Curry had indicated.
"We will be going after some of the smaller banks; they are just as creditworthy, just as sound," he announced today.
Barrow said that the assurances of the OCC were repeated by the Federal Deposit Insurance Corporation (FDIC), which regulates the bank with which Belize has been negotiating to establish new correspondent banking relations.
The FDIC officials went a step further to indicate that they would actually transmit that message themselves to the bank, "that the Belize jurisdiction is fine and if your business model is such that can do business with Belize… feel free to go right ahead and do that," Barrow added.
The Belize team—which also comprised Central Bank Governor Glenford Ysaguirre, Ambassador Mark Espat, Financial Secretary Joseph Waight and Belize's Ambassador in Washington, H.E. Pat Andrews—also met with US Secretary of Treasury, Jacob Lew.
Jacob J. Lew – US Secretary of the Treasury
According to Barrow, the FDIC's message was the same – that there is nothing wrong with the Belize jurisdiction. He said that Lew wanted to be clear that banks should not seek to scapegoat regulators in the US, but he also signaled that the FDIC would "see how they can lighten [the] load" from the regulatory agency without sacrificing effectiveness.
Barrow said, "that's a work in progress and in the meantime the secretary was saying, 'we all know the rules, and banks… there in the United States can comply with those rules without having to suggest that that compliance is so absolutely horribly expensive that they in consequence cannot do business with small jurisdictions on the basis that such business might expose them to sanctions'."
He notes that all of Belize's trading relations presuppose the ability for Belizean exporters and importers to be able to send money to the US – since that country is Belize's principal external trade partner, but for the ordinary Belizean, it is also important "because we are talking about remittances," as "so very many families in Belize have connections with the US."
"So when our banks are facing the possibility of a cutoff of these relationships you can imagine how cataclysmic that would be in so very many ways for our country, if it were to happen," Barrow said.
Furthermore, Barrow said that it cannot be in the interest of the United States to see a collapse of the correspondent banking relations in Belize.
"Apart from what it would do to us, it will have the effect of forcing money into an underground economy, so that a byproduct of that would be to expose our vulnerability to money laundering and related phenomenon," he added.
"BELIZE IS NOT TO BLAME"
"I need to make clear there is nothing peculiar about the situation in Belize and there can be no question of what is happening being a consequence of anything that we have done or not done," Prime Minister Barrow said.
He noted that Belize is not alone, as banks in other jurisdictions in CARICOM, Central America and Africa have also been met with the same fate.
He also pointed to the fact that even in Mexico, banks there are being severed as well. The Wall Street Journal, a major US business news source, cites "mounting regulatory warnings," in a report dated January 22, 2016. The report adds that US banks have been "…retreating from emerging markets as regulators ramp up their scrutiny and punishment of possible money laundering."
"For many banks, the money they can earn in such countries isn't worth the cost of compliance or the penalties if they step across the line," the Wall Street Journal report added.
Barrow said that in the case of Bank of America, that leading US bank was doing $6 million to $7 million in business with Belize domestic banks, and they clearly decided that it was not worth the risk that if something goes wrong—and there is always a possibility—they could be fined tens of millions of dollars.
A perception issue
"The biggest challenge we face I think in terms of this issue appears to me to be one more of perception. The uncertainty that I think the US banks face as to the consequences of a misstep or of a slip in any transaction, as it relates to their compliance requirements are so significant that they are, as the Prime Minister explained, very skittish about doing business with Belize banks," said Governor Ysaguirre.
"I think the takeaway that we from the Central Bank had from this meeting is something that was confirmed to us: that there is absolutely no issue with our jurisdiction. And now that we have gotten that confirmed by the US Treasury Department, by the Office of the OCC and the FDIC, that we should now seek to leverage that information and that confirmation with those banks that we now seek to establish relationships with," Ysaguirre added.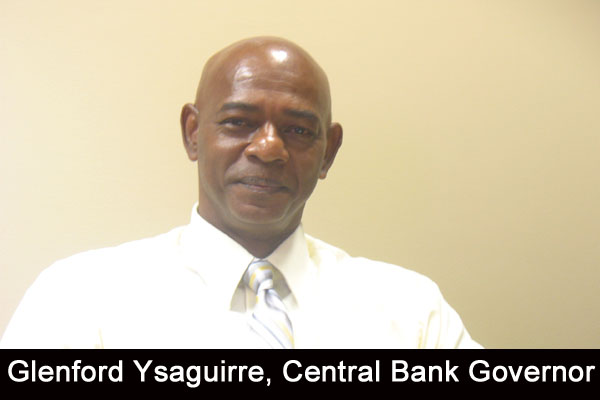 We asked about the Government's plan to address the problem of perception, particularly in light of the US's repeated listing of Belize as a major money laundering jurisdiction. Antigua and Barbuda Prime Minister Gaston Brown had said that he would be seeking to develop a collaborative relationship with the other six Caribbean jurisdictions listed, including the Bahamas, Belize, the British Virgin Islands, the Dominican Republic, Cayman Islands and Haiti, in an attempt to challenge the listing, which he described as "arbitrary…"
Last September, the US also issued a John Doe summons, as a part of a probe of offshore accounts held by US nationals at the Belize Bank. The IRS petition cited an example of how US taxes were evaded in the case of John Anthony Williams, who had been sentenced to 51 months in prison for multiple counts including wire fraud, mail fraud, and money laundering. The IRS petition said that Williams had formed an offshore company in Belize, opened a bank account at Belize Bank International Limited and wire- transferred the stolen funds to the account.
Today, Barrow underscored that all Belize banks are compliant with international financial regulations to combat money laundering and the financing of terrorism.
"Information regarding US accounts or accounts held by US citizens, residents, is sent back to US authorities on a routine basis," Barrow said.
Ysaguirre said that it is hard to understand why, in the wider global scheme, Belize would be listed by the US as a major money laundering jurisdiction since Belize's financial sector is small – at $4 billion. He added that one of the challenges Belize faces as it tries to avoid being perceived as a conduit for money laundering is its geographic location in a transshipment route to the US.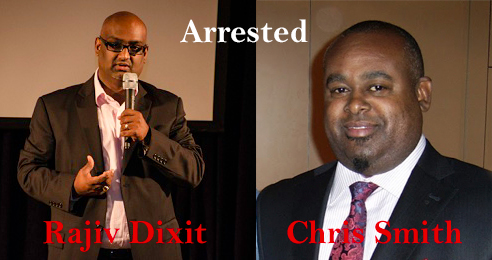 Belize's FIU helped to crack the case of Canadians, Smith and Dixit
As for tackling the perception issue, Ysaguirre said Belize can seek to do more – not only the Government and the Central Bank but also the press. He said that the role of Belize's Financial Intelligence Unit in a 2-year long investigation involving a Ponzi scheme allegedly carried out by two Canadians, Christopher George Smith, 45, of Toronto and Rajiv Dixit, 45, of Vancouver, was never reported when news broke at the end of 2015, but that incident, he said, was "a testament to the strength of the regime in place in Belize."
Addressing Belize's vulnerability
Barrow said that with respect generally to drug trafficking, the Central Bank Governor is right—this is a feature of where Belize is located.
"As long as we are so squarely in these transshipment routes, our vulnerability – which is what these [US] reports focus on – will continue. That's important, but perhaps not so important or certainly not as what we do to try to guard against that vulnerability being exploited by those that would do so…" the Prime Minister added.
He said that Belize is a part of a whole spectrum of cooperative programs, such as the US-sponsored Central American Security System—which, he said, is why the Government has acquired "expensive items such as the new Coast Guard vessels," and which is partly why the Belize Defence Force is acquiring new helicopters.
He added, though, that, "we will struggle even harder to deal with that vulnerability and to protect ourselves and the regional system as much as we possibly can; and we are very pleased that our efforts have received the sort of imprimatur – the seal of approval from the regulatory authorities that we got when we were up there last week…"
Widening talks on de-risking
There were reports last September that the International Monetary Fund (IMF) would intervene to alleviate threats resulting from the loss of correspondent banking relations. Barrow said today that the IMF is not quite there yet.
He reported that while in Washington last week, they also spoke with officials of the IMF and the World Bank about the banking situation.
Ysaguirre noted that last December, the de-risking issue was discussed at a meeting attended by Governors of Central Banks in Barbados who were meeting at a financial stability forum, at which officials of the IMF, the Financial Action Task Force (FATF) and the Caribbean Financial Action Task Force (CFATF), as well as US regulators from the Treasury Department, FDIC and OCC, were also present.
Barrow said that the issue will feature prominently at the CARICOM Intersessional Meeting which takes place in Belize week after next.