BELIZE CITY, Mon. June 20, 2016–Returning to Belize by bus tonight from El Salvador is a contingent of Belizean athletes and officials of the Belize Athletic Association (BAA) who are bringing back 12 medals – 6 gold, 4 silver and 2 bronze – won at the 17th Central American Seniors Championships in Athletics, held at the Jorge "Magico" Gonzalez Stadium in San Salvador, beginning last Friday morning and ending yesterday, Sunday afternoon.
According to delegation head, BAA President Deon Sutherland, "Belize's performance was outstanding. Of the thirteen (13) new records set at this event, Belize captured six (6). We now hold an impressive seven (7) Central American records. We captured a total of 12 medals – six (6) gold, four (4) silver and two (2) bronze."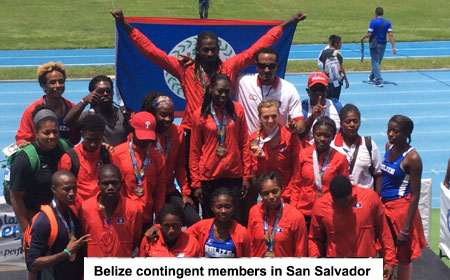 Belizean gold medal and record setting performances included:
(F) Kaina Martinez – 100m – 11.56sec (old record 11.74sec)
(F) Tricia Flores – Long Jump – 5.95m (old record 5.86m)
(F) Itohan Aikhionbare – Shot Put – 15.67m (old record 13.03m)
(M) Brandon Jones – Triple Jump – 16.22m (old record 15.93m)
(F) Katy Sealy – Heptathlon – 4817 pts (old record 4715 pts)
(F) (Faith Morris, Tricia Flores, Samantha Dirks, Kaina Martinez) – 4x100m Relay – 46.61sec (old record 47.40sec)
Winning silver medals for Belize were: (F) Alexia Neal – 100m Hurdles; (F) Kaina Martinez – 200m; (F) Itohan Aikhionbare – Discus; (M) (James Bregal, Brandon Jones, Shaun Gill, Mark Anderson) – 4x100m Relay.
And bronze medals went to: (M) Shaun Gill – 100m (10.97sec); and (F) Ashantie Carr – Triple Jump (12.04m).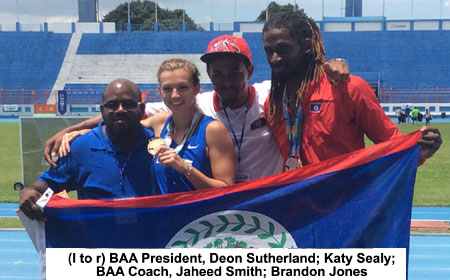 Other events that our athletes participated in were: (F) Ashontie Carr in 800m; (F) Ashantie Carr in Long Jump; (M) Mark Anderson in 200m and 400m; (M) Bret Scheve in 400m Hurdles; (M) Kenneth Brackett in Long Jump; (M) James Bregal in 100m; (M) Benjamin Fairweather in 400m; (M) Ezhay Cayetano in Long Jump; (M) Raheem Arzu and (M) Ernesto Villafranco in 800m; (M) Hance Card in 400m; and (F) Ajahney Carr in 200m.
Among the foreign based Belizean athletes who were part of the delegation to El Salvador were Kaina Martinez (Texas, USA); Itohan Aikhionbare, Samantha Dirks, Bret Scheve and Benjamin Fairweather (Los Angeles, USA); Brandon Jones (Virginia, USA); and Katy Sealy (UK).
Officials in the Belize contingent included BAA President, Deon Sutherland; Delegate, Jaheed Smith; Coaches, Andres Rojas and Fred Evans; and Chaperone, Mrs. Shelmadine Carr.
(Information and pictures courtesy Deon Sutherland, BAA President)