BELIZE CITY, Thurs. Nov. 11, 2021 — Belize's Group B in the Concacaf Men's U20 Qualifiers (CMU20) currently taking place in Santo Domingo, Dominican Republic, is still a toss-up, with Belize facing home team Dominican Republic in a game that could determine our chances of winning the group and qualifying to next year's CMU20 Championship.
In the 5-team Group B, results so far are: Nov. 5 – Saint Lucia (LCA) 5-2 over Saint Martin (SMN); Dominican Republic (DOM) 6-0 over Anguilla (AIA); Nov. 7 – Belize (BLZ) 0-0 with LCA; DOM 2-0 over SMN; Nov. 9 – BLZ 6-1 over SMN; LCA 3-0 over AIA; Nov. 11 – SMN 1-0 over AIA; BLZ vs DOM??? (to be played at 3:00 p.m. today)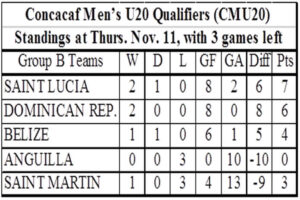 The last two games of the group take place on Saturday, November 13, with BLZ vs AIA at noon, followed at 3:00 p.m. with DOM vs LCA. Winless Anguilla should pose little difficulty for Belize, so today's matchup with Dominican Republic, the home team, is critical.
Let's go, Belize!!