BELIZE CITY, Thurs. Nov. 4, 2021 —Derrick Chavarria wins Gold
Journalist William Ysaguirre reported last week that Belize junior cyclist, Derrick Chavarria had won Gold in the 90 kilometer Junior Road Race at the Caribbean Junior Cycling Championships in Santo Domingo, Dominican Republic on Sunday, October 24. (We have received nothing on this yet from the Cycling Federation of Belize, CFB.) Meanwhile, 15-year-old Belizean Gabrielle Gabourel had taken the Bronze (3rd place) in the Female Youth Category of the Individual Time Trials (ITT) on Saturday.
According to Ysaguirre's report, Chavarria's winning time was 2:25:03 on the Mirador del Sur closed circuit on Sunday, while his Belize teammates Goran Gabourel and Dion O'Brien finished 8th and 10th, respectively, in the same Road Race.
In the Youth Time Trials on Saturday, Belizean Tyler Tejeda finished 6th, and he was 17th in the 70 kilometer road race on Sunday.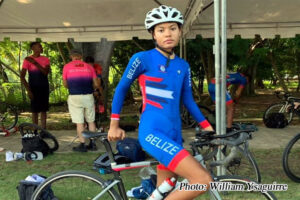 Belizean Masters race on Friday
Thanks to FFB executive member Marlon Kuylen for forwarding some cycling information he received from Santino, who is currently in Santo Domingo.
According to Santi, some senior cyclists currently representing the Jewel in races in Santo Domingo include: in the Masters A 30-39 Category – Willie Chan of M&M Engineering; in the Masters B 40-49 Category – Roque Matus, Phillip Burns, Dwayne Wade, Gilroy Robinson and Palas Joseph, all riding for M&M Engineering; in the C 50-59 Category – Michael Wagner, also riding for M&M Engineeriing; and finally, in the D 60-and-Over Category – Santino Castillo, riding for Team Santino's.
The Masters official races start tomorrow, Friday.