BELIZE CITY, Tues. Oct. 9, 2018– In the issue of Amandala dated Friday, September, 29, there was an article entitled "Forced to steal electricity despite the frightening danger," which described the perils faced by residents in certain areas of the city, primarily the Gungulung area, who, because they were unable to pay to have electricity installed in their homes, were using dangerous connections to steal electricity.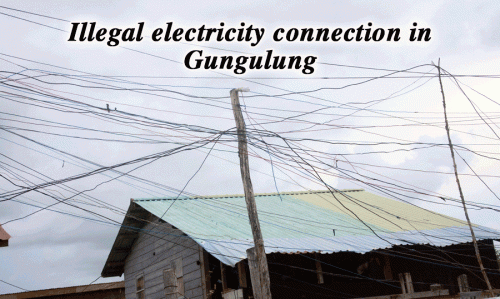 Today, we visited the Belize Electricity Limited's (BEL) office, where we learned more about how their Connecting Homes Improving Lives ("CHIL") program is helping those same people.
CHIL was officially launched on September 18, 2014, to assist low-income persons who are unable to afford the service entrance fee to have electricity installed in their homes.
A service entrance, according to BEL, is the basic infrastructure required for getting safe and proper connection to power supply from them. In some areas the cost of the service entrance can run anywhere from $800 to $1,200. Many Belizeans countrywide struggle to find that money, and there are even more people who simply cannot afford it. These people may feel that they are forced to steal the electricity by hooking up electrical wires to a nearby lamppost, but BEL wants them to know that there is another option.
Sean Fuller, Senior Manager of Information Systems and Customer Care, told us that aside from those persons who steal the electricity from the lamppost, there are residents who pay their neighbors $50 – $75 a month in order to have an extension cord run from one house that has electricity, to their house. This process is also a dangerous one, because it can cause overloads that cannot be safely handled by the gauge wire (12, 14, 16 and 18 gauge) and fuse breakers (15, 30 and over amps) that are used. When there is an overload the plastic covering on the wires begins to melt and burn, and this can cause a house fire. Also, when the wires fall on the ground, especially if it is wet, people can get shocked while walking near these houses.
Fuller said that some people who used to get their electricity through illegal connections are now paying much less for electricity under the CHIL program. He showed us a bill of a customer who used to pay their neighbor upwards of $50, and is now paying less than $12.
The way the CHIL program works is that it assists residents with paying the initial service entrance fee. Vonetta Burrell, BEL's Manager of Public Relations and Administrative Services, explained that there are many households that don't consume much electricity, and so would only have a monthly bill of maybe $10 – $40, which they would be able to afford.
The fee for the service entrance, however, would be too costly for them, and so BEL would install the service entrance for free, and the household would only need to pay the monthly bill to keep connected.
Burrell also explained that the perimeters of the program have been expanded to also include people who can afford a portion of the service entrance fee. She said that if this is the case, BEL will factor that into the bill over a long period of time, so that the person can contribute towards it.
Both Fuller and Burrell emphasized that the only way to know if a household can be helped, and how they can be helped, is for members of that household to apply for the CHIL program, which is available year round. Everyone who is approved will get the help they need.
BEL prioritizes those who may need that assistance more than others. They especially prioritize senior citizens, who may also qualify for their Golden Citizens program; people who have sick persons in the home, or terminally ill children or spouses; and victims of house fires.
This is a countrywide program that has so far helped 1,600 households. Fuller explained that they know many people endanger their lives on a daily basis by using unsafe means of getting electricity, so he is pleading with the public to apply for the program because BEL wants to be able to provide safe and reliable electricity.
According to him, their goal is to by 2020, have 98% of households connected to electricity from BEL.
To qualify for consideration for this program, the account holder needs to be a Belizean with a social security number, as well as show proof of a steady income, whether it's assistance from his or her family or the state, or basic income, and lastly, the household must be one of low income.
BEL is also involved in an expansion program. Over the past few years, BEL has been trying to expand into areas that do not currently have access to electricity, whether it is an old community that has been expanding, new communities, or remote areas. When someone from the community brings BEL's attention to their lack of electricity, BEL goes out and surveys the area. BEL assesses the community's age, size, and the cost of connecting the households, and then it prioritizes their needs based on those factors.
This expansion also allows BEL to find more households that would be able to benefit from the CHIL program.
These two programs work hand-in-hand, and it is BEL's way of ensuring that as many people as possible have access to electricity in a safe manner. Lives are at stake in households where residents are stealing electricity, and BEL implores these households to take advantage of the programs that are set up to assist them.
In 1999, GOB invited Fortis Inc. to invest in BEL, and it became state-owned in 2011 after GOB assumed control of it from Fortis.