My sister Aria Lightfoot sent me an invite recently to a FB group called "Belize in the Old Days". People tag me regularly to join various groups on social media, but I hardly ever join. However, I decided to take a look at the group, and a couple of things immediately manifested themselves to me: 1. The group is predominantly made up of middle-aged and older folks who seem to enjoy basking in the nostalgia of a Belizean reality that no longer exists. 2. Some folks who are the product of a colonial education system energetically talk about how happy they were for being raised in Belize, where they were sheltered from white supremacy and racial discrimination.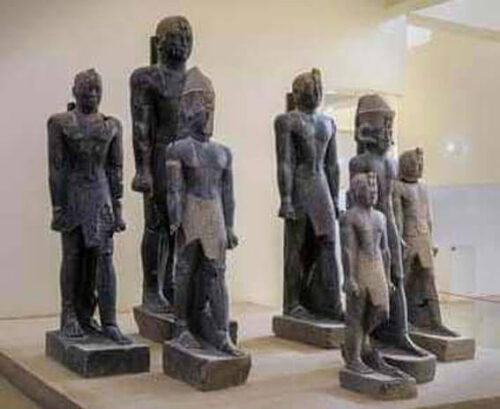 While there is no crime in talking about " the good old days," it should not serve as an additive, but a fuel injector that drives action. This article is not a critique of the above-mentioned FB group; rather, I choose to begin there to place a backdrop to the fact that we still have a whole generation of black people who don't have a clue who they are and how to see themselves as an integral part of the Pan-African/Black diaspora experience and movement.
Frequently on social media, whenever articles are posted on the black condition in Belize or within the global Pan-African context, with but a few exceptions, Belizeans largely become racially ambiguous, go missing in action, or are critical of the content. It has not gone unnoticed the hell my Belizean sister activist, commentator, and TV host YaYa Marin Coleman caught from Belizeans when she was posting positive and inspirational photographs of Belizean men taking care of their children under the title, "Black Fathers". Some of the responders questioned the need for YaYa to identify the Belizean black men as "Black Fathers," and argued that she should have just said "fathers". They bemoaned the feeling of discomfort that the term "black fathers" stirred in them and described the term as "unnecessary".
For my international conscious colleagues who are reading this, yes indeed our struggle is universal in scope. Belize, like the vast majority of settlements in the Western Hemisphere, was built upon the enslavement of African people. The model of pacifying and domesticating rebellious slaves that was perfected by the British colonizers now forms the foundation of the country's modern jurisprudence, education system, judiciary, religious institutions, and social, economic, and political order. Indeed, the judges in Belize still preside over the court wearing a European wig that symbolizes the origin of the way we were and are governed. Hence, the colonial education and religious system are at the root of the perpetuation of denial of blackness, a sense of inferiority, and self-hate among blacks. If black youth cannot see a reflection of themselves within an education paradigm, then that education is oppressive. Belize's educational curriculum is predatory, discriminatory, and void of capacity to excite the imagination of the Black youth. It does not specifically teach and encourage black children to study and research their history in regards to global antiquity, civilization, inventions, discovery, science, literature, and so on. In addition, this approach must be made applicable to the Southside Belize City and Punta Gorda. It cannot be a mundane regurgitation of a few highlighted dates, personalities, and events in Black history. History is not an accumulation of dead facts; instead, the right teaching of it affects the way we interact, project, envision, create and reinforce the idea that our origin did not begin as a slave.
Belize has experienced the Ex-servicemen insurrection, which was a black revolt by black soldiers of World War I against white supremacy and racism in 1919. The rapid growth of Garveyism and the UNIA movement and the explosion of the 60's black youth revolution in the form of UBAD have unequivocally answered the question of whether black discrimination, white supremacy, and racism was alive and kicking in Belize. But this Black resistance has not necessarily evaporated in 21st Century Belize. It can be argued that Black people in the country today are under a more insidious and deadly form of attack and oppression via mis-education, poverty, hunger, violence, and are being herded into a service-oriented economy rather than land cultivation, industry and international trade as a foundation for financial independence, entrepreneurship, and self-determination.
If in 2020, Belizeans are still perplexed and afraid to identify with their lineage from the original black man and woman, the "Alpha and Omega", and feel a need to genuflect and apologize for being black, it explains why as a people we essentially remain the "mammy" of every other group which comes into our community, provides goods and services that we once were in charge of within our neighborhood, and discriminates against us, price gouging while sucking out the power of the black dollar with zero reinvestment. This is called the exploitation of the working poor.
In closing, I want to give a shoutout to Bro. Nigel Petillo and the brothers and sisters who are organizing and advocating for land ownership by Belizeans. More power to the brothers and sisters on the frontline who are fighting for their inalienable right to unimpeded access to land ownership in Belize. I also want to give a shoutout to Bro. Leo Sanchez down in Punta Gorda who represents the future in food security and land cultivation. Let it be known to any who question your actions that our ancestors built Belize, and died, bled, suffered, and paid for that land with their blood. We carry their gene memory and propensity to survive and wage this resistance in their memory. No compromise — keep moving forward, strong, and united as a grassroots movement and people.
The pictures below depict the Black Nubian Kushite kings and queens and the army of "Kush," the first great civilization in Nubia and the Nile in Africa. This Kushite civilization predated the Egyptians and indeed was the foundation upon which the rise of classical Egyptian civilization was possible.