BELIZE CITY, Mon. June 25, 2018– The Bliss Institute was built in 1954 at a cost of a little over a quarter million dollars and was a one-of-a-kind facility in Belize City, with the upper part housing the Belize Library National Collection and reading room, while the lower flat doubled as an auditorium and exhibition area.
With the passage of time, the Bliss, as the venerable institute is known, was transformed into the Bliss Center for the Performing Arts when the building was restructured and refurbished by a Mexican construction company in 2003.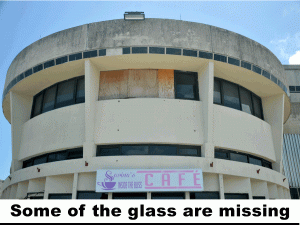 Today, fifteen years after the Bliss opened its doors, Amandala visited the Bliss, and sadly, observed that time and the elements have wreaked havoc on the structure. The roof is leaking from several different areas and is in urgent need of repairs or replacement.
The outside of the building is in need of a power wash to clean it up. The walls inside the changing rooms have some large gaping holes. The carpet that runs on the aisles is poorly maintained.
Newly appointed National Institute of History and Culture (NICH) interim president, Sapna Budhrani, told Amandala today in a telephone interview that plans are underway to fix the roof of the building.
Budhrani said she is hoping to get started with the renovation and repairs during the present fiscal year.
When we asked Budhrani if NICH had put out a tender for the work to repair or replace the roof, she replied that she couldn't recall the exact date when the tender was advertised.
In the next breath, Budhrani said the selective process of the tender is complete, but the funding required for it is not available.
"The funding required for the fixing that needs to happen is different from the funding that can happen," Budhrani said.
While the NICH interim president was unable to say when the works on the roof would begin, she said it's possible to fix it in stages.
We asked Budhrani if the Bliss is still receiving monies from the Baron Bliss Trust, and she replied that they are not receiving money from the trust. Budhrani insisted that she has a budget to do the repairs, but cannot say when the repairs will start.