His "sin" was that he wanted to put his "Vote No ICJ" golf cart in the September celebrations parade
BELMOPAN, Mon. Sept. 24, 2018– Belizean political leader, activist and businessman, Robert "Bobby" Lopez, was harassed by Belmopan authorities when he lined up for the September 21 parade last Friday in an electric golf cart with a sign that said, "Vote No ICJ – tek no chance."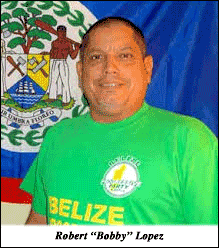 Lopez says he was blocked a number of times by police officers before being allowed to get in the parade.
He was in his golf cart, and his wife and their 9-year-old granddaughter were behind him in a vehicle. He said they were in line, waiting for the parade to move off, when a senior police officer, who was accompanied by three constables, advised him that the organizers of the parade did not want him to participate because of his message.
Bobby said he asked to speak to a representative of the organizers, and Ms. Tricia Pelayo of the Belmopan City Council came over and told him that the committee had already told Richard Harrison, (a gentleman who had been organizing a form of protest against Belize going to the ICJ), that they would not be allowing any such protesters in the parade.
Mr. Lopez said he told her his name was not Richard Harrison, and that his constitutional rights were being violated. He said he told them that if he wasn't allowed to join the parade, he would be taking them to court. Lopez said Pelayo told him, "I will need to call my Minister."
Bobby Lopez said that about 5 minutes later, near to 1 p.m., the senior officer told him that he would be allowed in the parade on the condition that he made no verbal pronouncements. Lopez said he explained to the officer that he did not have equipment to broadcast amplified messages on board his golf cart.
He hadn't travelled a distance of 100 feet when a police sergeant who was with another set of officers said to him, "What part of 'no' don't you understand?"
He tried to continue on, but the officer blocked him with his motorcycle and said, "No, you noh gwine no way!"
Lopez said he took out his phone and the officer reached into the cab of his cart and took it away from him, turned it off, and then handed it back to him.
At this point, Lopez's wife took his granddaughter away from the scene because the child was becoming fearful. This morning he explained to Louis Wade of Plus Television, on the station's morning talk show, that the sequence of incidents had been particularly painful for him because his granddaughter had been so excited and enthusiastic about parading before all the police harassment began, in violation of his constitutional rights.
A police vehicle with four officers then came up, and the officers demanded that he show them his vehicle documents, which Lopez said were all in order.
The police sergeant still insisted that he not be allowed to join the parade; fortunately, however, political leader and Senior Justice of the Peace, Paul Morgan, who had heard of the harassment Lopez was going through, came by and explained to the officers how far they had strayed from their boundaries.
Bobby Lopez and his "Vote No ICJ" cart were then allowed into the parade. Lopez said he is sending a letter to the Mayor of Belmopan, to the Minister of National Security, and to the Commissioner of Police, because of the treatment he received on Independence Day.