by Peter Young
BELIZE CITY, Thurs. Mar. 9, 2023
Good day, cricket folks wherever you are! Under the auspices of the Belize National Cricket Association, the Barry Bowen/Harrison Parks Cricket Competition 2023 continued over the weekend with again some very exciting and heartbreaking games. Quite a few batsmen scored over one hundred runs. Big congrats to them!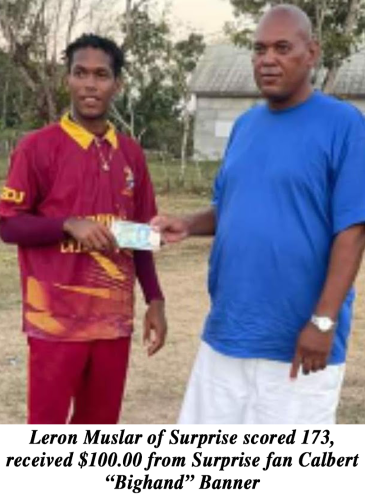 Let's start with Surprise of Lemonal vs Brilliant of Crooked Tree. Surprise went to bat first and dominated the bowlers of Brilliant. At the fall of the last wicket the score stood at 391, with Leron Muslar scoring 173, including 6 consecutive 6s. Keagan Tillett and John Anthony of Brilliant took 3 and 4 wickets, respectively, of Surprise team. When it was Brilliant's time to bat, they could only score 176. Rhavin Gillett scored 51, and Javon Reynolds of Surprise took 5 of Brilliant's wickets. After this game, Leron was presented with $100.00 by a strong supporter of Surprise, Mr. Calbert "Bighand" Banner.
We turn now to Brave Union Boys of Boom against Weekend Warriors of Flowers Bank. Brave Union Boys took to bat first and took advantage of the bowling coming from the Warriors; and at the fall of the last wicket, the score stood at 322, with young Jahlen Thompson top scoring with 145, while John Flowers took 3 of the Union's wickets. For the Warriors who only mustered 125, of that, Michael Flowers scored 32, and Keon Flowers took 3 of the Union wickets.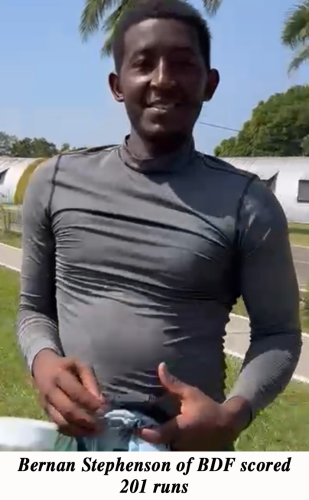 Now for BDF vs Western Eagles of Rancho Dolores. BDF took to bat, and after batting for 50 overs with 3 wickets to fall the team scored 404, with Bernan Stephenson top scoring with 201. Reenan Reneau took 4 of the army's wickets. Western Eagles went to bat but fell short at the fall of the last wicket, scoring only 111. Jareem Lord scored 25, while Travis Samuels took 3 of the Eagles' wickets.
Summa Feva over Sunrise, 148 to 143 with 3 spare wickets. For Summa Feva, Kenton Young scored 56, and Andrew Banner, Sr. and Jr. took 4 and 3 wickets, respectively. For Sunrise, Khalid Khan scored 37 and took 5 wickets also.
Long Journey had the better of Rising Star, 146 to 107. For Long Journey, Jevaun Casimiro scored 40, and Leslie Moody took 4 wickets. For Rising Star, Lawrence Wade scored 23, and Marlon Rhaburn took 4 wickets.
Brave 11 Reloaded walked over Golden Eagles very easily, 243 to 101. For Brave 11, Sherman McCulloch scored 55, Dirk Sutherland 44, and Sherman Roca 31. Beto Banner took 4 wickets. For the Golden boys, Gareth Joseph, Sr. scored 19 and also took 4 wickets.
If there are no changes, these are the scheduled matches for this weekend, March 11th and 12th.
On Saturday – Brave Union Boys vs Progressive at Landing; Brave 11 Reloaded vs St. Paul's Strikers at St. Paul's Bank; Summa Feva vs BDF at BDF; Surprise vs Wicked 11 at Flowers Bank; and Western Eagles vs Brilliant at Crooked Tree.
On Sunday – Rising Star vs Tropical Disturbance at Biscayne; Long Journey vs Weekend Warriors at Flowers Bank; and Sunrise vs Excellence at Double Head Cabbage.
That's it for this week, folks! But read more next week.
Enjoy a splendid weekend of cricket, and share the love of yourself and the sport. Bye Bye!