Photo: Alma Franz, creator of Chew Again Denture Liners
by Kristen Ku
BELIZE CITY, Thurs. Mar. 9, 2023
This week, Alma Franz, a Belizean who now lives in the USA, launched her new product called Chew Again, which she created to reduce the difficulties that those with dentures experience while eating.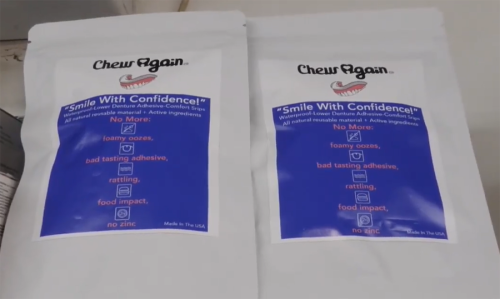 Franz, who is originally from Burrell Boom, was inspired to invent the ultimate solution for people with missing teeth based on her own experience. After suffering from an infected and quite painful implant, Franz was ready to try something else that could help her. Unfortunately, there was nothing else out there for her.
After leaving Belize with a painful taste of what was forced to be her reality, Franz decided to invent something to address the dental difficulties she was dealing with . With the help of her daughter, Laurine Smart, Chew Again, an all-natural denture line, was born.
"I invented Chew Again because I wanted to chew again; nuts, peanuts, steak, chicken I had to cut up. So, I had to do something. So, all my friends that are suffering like me, no more suffering. Just chew again!" Franz told KREM News. Smart calls it the best thing that has happened to her mother after enduring so much pain from dentures.
As with most new projects, they faced many challenges. The biggest challenge the inventors faced in creating Chew Again was in finding the appropriate material.
"The challenge was to come up with a material that would be able for the denture to sit in, stay there and also give comfort, and to come up with an adhesive which is not only all-natural and have no chemicals in it, because that was important for us also to make sure that it will address all the issues she had," said Smart.
Chew Again can be purchased in the US, and in Belize it can be found in all Brodies and Publics stores, at the Freetown Pharmacy, and at Sadie's Boom Pharmacy located in Burrell Boom. It is being sold in packs of 15, or individually.
For those who prefer online shopping, Chew Again will be available for purchase by the end of this week from their website, Lets Chew Again.com.