The contractor was charged with causing the death of of Succotz sisters Cindy and Jarinet Cowo
SAN JOSE SUCCOTZ, Cayo District, Tues. Oct. 9, 2018– Carlos Martin Martinez, 53, a contractor of Belmopan, has been arrested and charged with two counts of causing death by careless conduct, two counts of manslaughter by negligence, and driving with alcohol level above the legal limit.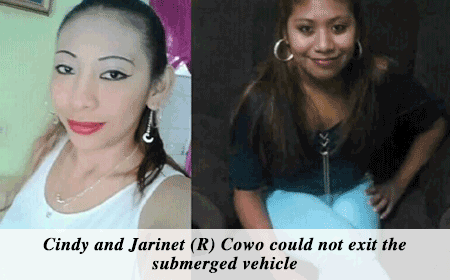 Police said that at about 4:00 Saturday morning, Martinez was driving his vehicle on the George Price Highway, from Benque Viejo Del Carmen to San Jose, Succotz. Along with him were two sisters, Cindy Cowo, 26, and Jarinet Cowo, 16, both of Succotz. Between Miles 71 and 72 he lost control of the RAV4 and it ran off the road, down the south bank of the Mopan River, and into the river.
Martinez said that he managed to escape from the submerged vehicle by kicking out the window on the driver's side. He said he was not able to help the two sisters because the currents in the river were too strong, and he became unconscious on the river bank.
Police believe that Martinez was intoxicated and he fell asleep at the wheel and lost control of the vehicle, causing the double fatality.
Martinez was taken to the San Ignacio Magistrate's Court today, where he was arraigned on the charges. No pleas were taken from him and he was offered bail of $8,000, with two sureties of $4,000, and was ordered to return to court on November 28. However, he remains in police custody because he was unable to meet bail.
The accident happened at about 4:00 Saturday morning, but it was not until about 8:00 that same morning that Martinez went to the Cowo family in Succotz and told them the terrible news, that the sisters were dead. The family said that Martinez told them that he did not know how the tragedy occurred.
The family called police, and at about 10:00 that morning, about 6 hours after the vehicle went into the river, it was retrieved. During the weekly police press brief, ACP Joseph Myvette said that when the vehicle was recovered, the sisters were seen huddled together in the cargo space.