BELIZE CITY, Mon. Nov. 12, 2018– Going into Week 13 of the Premier League of Belize (PLB) 2018-2019 Opening Season regular season this past weekend, it looked like 5 teams had a chance of grabbing 1 of the 2 remaining spots in the Top-4 semifinal playoffs. Front runners, then undefeated Belmopan Bandits SC and second place Verdes FC had already secured their playoff berths; it was only left to be decided which of the two would be seeded #1 and which #2. And, after a weekend where both suffered shutout losses, that seeding is still to be decided; but, with powerhouse Police United FC also losing by shutout over the weekend, while San Pedro Pirates FC and Altitude Assassins FC posted big wins, these 3 teams appear to be the serious contenders for the 2 remaining playoff spots, with Wagiya FC, who lost to the Assassins on Sunday, only having a very slim mathematical chance. (See updated standings below, with the 2 remaining back matches.)
In the only Saturday night game this past weekend, which was not televised, San Pedro Pirates FC went into Isidoro Beaton Stadium and dealt defending champions Belmopan Bandits SC their first loss of the tournament, as Mexican import Eduardo Chavira (69') led San Pedro to the 1-nil road victory.
It was another big upset on Sunday afternoon at the Victor Sanchez Union Field in Toledo, where home standing Freedom Fighters FC, who are already out of playoff contention, nevertheless stunned visiting Verdes FC, 3-nil, with goals from Evan Mariano (37' & 51') and Alexander "Pleck" Peters (41' PK), who was taken down in the eighteen and calmly converted against promising rookie Verdes keeper, Charles Tillett. Another big upset on Sunday was at the MCC Grounds in Belize City, where cellar dwelling BDF FC dropped Police United FC, 2-nil, with a goal each from Kyle Budna (44') and Kelker Palacio (84'). Meanwhile, at the Carl Ramos Stadium in Dangriga, home team Wagiya FC saw their playoff hopes dashed by Placencia's Altitude Assassins, who came from behind to clip Wagiya, 2-1, with goals from Dellon Torres (26') and Ashley Torres (48'), after Wagiya had taken the early lead through Wendell Trapp (6').
Two back matches precede Week 14 games to finalize the Top-4 playoff teams and the semifinal match-ups. There remains a wide range of possibilities; for example, two big wins by Wagiya against Police United and against San Pedro Pirates, coupled with Assassins' losses to Police United and to Belmopan Bandits, would put Wagiya back in the race. Week 13 upsets prove that "any number can play."
The Bandits' Georgie Welcome seems to have the goal scoring title locked up this season, unless Freedom Fighters' Alexander "Pleck" Peters can come up big in their one remaining game against BDF.
Following Friday's Nations League international, 2 PLB back matches will be played, 1 on Saturday and 1 on Wednesday, followed by Week 14 games to end regular season on the weekend of November 24-25: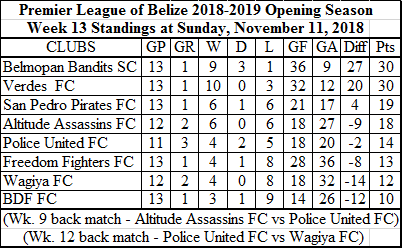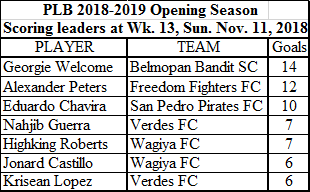 UNCAF NATIONS LEAGUE
Friday, November 16
8:00 p.m. – Belize vs Puerto Rico – Isidoro Beaton Stadium
Back Matches
Saturday, November 17, Wk. 9 back match
7:30 p.m. – Altitude Assassins FC vs Police United FC – M.A. Stadium
Wednesday, November 21, Wk. 12 back match
8:00 p.m. – Police United FC vs Wagiya FC – Isidoro Beaton Stadium
Week 14 schedule:
Saturday, November 24
7:30 p.m. – San Pedro Pirates FC vs Wagiya FC – Ambergris Stadium
7:30 p.m. – Altitude Assassins FC vs Belmopan Bandits SC – M.A. Stadium
Sunday, November 25
4:00 p.m. – Freedom Fighters FC vs BDF FC – Victor Sanchez Union Field
4:00 p.m. – Police United FC vs Verdes FC – Isidoro Beaton Stadium