BELIZE CITY, Thurs. Dec. 19, 2019– Hello, my so wonderful Cricket Corner readers and appreciates!
I know that my story will reach you all late, but I am very pleased to tell you about it again. So, pleasant reading.
When the President of the Belize National Cricket Association, Dr. Roy Young, was elected and settled in, he started forming committees to handle various areas in the Association to help him to move the spirit of cricket forward in a most positive way. A few out of the twelve committees are for coaches, umpires, youths, males and females, public relations, etc. One such committee is for the National Female Cricket Team, headed by Miss Daphne McFadzean.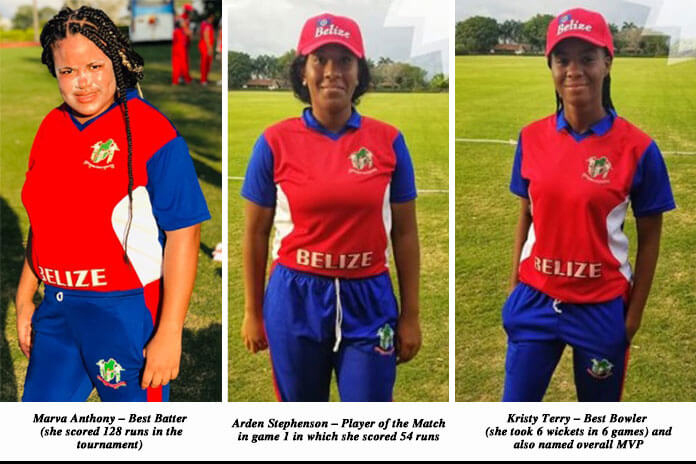 Invitations were sent out for individuals who were interested to join. Practicing and working out started. It was informed that the team was being invited to play some matches in Costa Rica in December in the Mid-Season International Female Cricket Tour, supported by the International Cricket Council (ICC) and the Belize National Cricket Association (BNCA). Dates for the visit were set, and team players were selected. Arrangements were made for their travel.
The Belize Female Cricket team was notified that they will be going up against three teams, playing each twice. That means Team Belize will be playing 6 games. It was an exciting opportunity for these ladies to travel abroad to put their practices and abilities against other teams in a foreign country.
On Thursday, December 5, these ladies and their support groups all gathered at the airport, ready for an adventure as Belize's ambassadors and to show off skills and more.
It will be the very first time that a Belize female cricket team will be traveling abroad to represent the Jewel, and these ladies were prepared to represent with honor, respect, dignity and discipline.
Reaching in Costa Rica, they settled in their place of rest, after meeting and greeting the host players and others of C/R. They had to rest well, as they are scheduled to play two games on Friday.
Well, on Friday the stage was set.
In the first match, Belize defeated Costa Rica, 128 to 65, a difference of 63 runs. Arden Stephenson top scored with 54.
The second match, Belize again defeated the opponents, 87 to 86. Kristy Terry top scored with 31.
Our Belizean girls were now in high spirits. (Who wouldn't be?)
At home, Fb was on fire, as postings were cheering for our girls.
On Saturday, again Belize defeated Costa Rica with a score of 125 to 33.
The tide turned when Costa Rica was successful in defeating Belize 113 to 107. A very close game. At home, the Jewel were on their postings, saying "We got this! Don't give up!" That game did it for Saturday.
On Sunday, Belize were on top of the game again, as the team defeated Costa Rica, 98 to 95. That game placed our girls on side of GOLD.
Then the second game sealed it off; Belize held on to win, 111 to 110. GOLD is in hand!
What a triumphant trip! At home, the results were well received by all.
When all was calm on the field, it was time for trophies and medals and awards.
Arden Stephenson was the Player of the Match in the first game, by scoring 54 runs in the first game.
Kristy Terry was awarded for Best Bowler for taking 6 wickets in the six games played. She also scored 31 runs in one game.
Marva Anthony was awarded for Best Batter for scoring 128 runs total in the tournament.
Kristy Terry carried the big one: The Most Valuable Player (MVP) award.
These ladies had played excellent, representing our country with honor. We all join in one accord and shout out, "Well done, girls! You all made us proud!"
PS. It was a very touching Welcome Home at the Airport, as many well-wishers were there to receive them.
As I close, my personal note to you: continue to be focused for future endeavors.
That's all, folks. Thanks for reading. Respect to and for all.