BELIZE CITY, Wed. Apr. 5, 2017–Pump prices went up on Saturday, April 1, largely due to the implementation of tax measures to raise additional revenues for the Government of Belize. Whereas controlled prices are usually quoted for Belize City, prices vary around the country, with the southernmost communities taking the biggest hit due to transportation costs. In fact, whereas a gallon of regular gasoline costs $9.79 in the City, where fuel shipments are landed, it costs $10.04 in Punta Gorda Town.
What remains constant across all municipalities, though, is the cumulative impact of the tax bite, which has been pushing upwards since 2015.
We did an analysis of the numbers available to us since 2014, and our review of the data demonstrates the impact of additional tax measures imposed at the pumps between 2015 and 2017. For comparison, we used the first price pump changes in April of each year.
We note that pump prices increased only a few percentage points this weekend. In the case of regular gas, the increase amounted to 3.4%, but the cumulative effect of the past three tax measures has been substantial. The pie charts demonstrate that whereas the "tax take" at the pumps was less than a third of the total price back in April 2014, it now almost half of what consumers pay at the pumps. The tax take has increased by roughly 15 percentage points for gasoline (regular and premium) and by 21% for diesel.
The Government has contended that it needs the extra revenue to make up for shortfalls in revenues from crude oil receipts, and most recently, additional tax measures were introduced to help bridge the budget deficit.
A third of what consumers paid at the pumps in 2014 went to GOB in taxes. Today, nearly a half of what gas stations collect goes back to GOB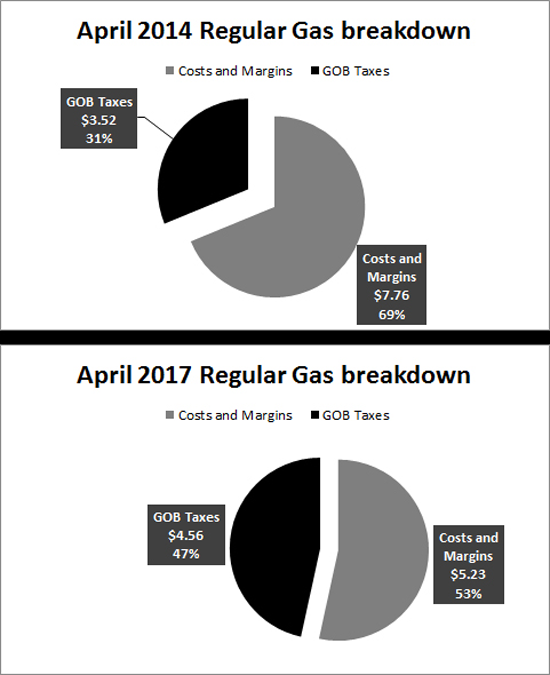 The end result has been that although fuel on the world market has become cheaper since 2014, pump prices have remained high with the imposition of the tax measures.