Bredda vs Bredda in game 2 – Caesar Ridge vs City Boys
BELIZE CITY, Wed. Dec. 5, 2018– The best-of-2 games quarterfinals in the 2018-2019 CYDP Peace Cup 1st Division Tournament had its first leg of games this past Saturday, December 1, at the MCC, and the games were all exciting and competitive. There were no lopsided scores, two draws even, so the decisive second leg this coming Saturday should be a day full of football thrills for Belize City fans, who came out in numbers last Saturday.
In game 1, Lucky Strike FC jumped to a 2-0 lead over Coast Guard FC through Keened Gillett (33') and an own goal by Coast Guard's Jamie Wade (42'). Coast Guard got a late goal from Fede Estiverne (88') to close the gap in the final score: 2-1, Lucky Strike over Coast Guard.
Game 2 saw Barrack Road FC with the 3-1 win over Lake-I FC. Netting 1 apiece for Barrack Road were Devaughn "Beckham" Zuniga (33'), Steven "Breds" Baizar (59') and Harold Thompson (69'); while the lone goal for Lake-I was by Floyd Jones.
In game 3, after Sean Young (23') had given Ladyville FC the 1-nil lead, FC Elite came back strong with goals from Marlon Gutierrez (43') Leon "Lem" Jones (45') to take the 2-1 lead; but Sean Young (88') got the late equalizer for Ladyville, and it ended in a 2-2 draw.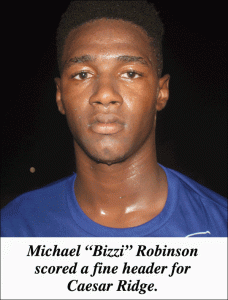 Game 4 was another draw game. First half ended 0-0 between Caesar Ridge FC and City Boys FC. In second half, Michael "Bizzi" Robinson (50') put Caesar Ridge in front, 1-0; but Orlando "Bredda" Velasquez (80' PK) converted a penalty to secure the 1-1 draw. This game saw the surprise addition of the renowned Gilroy "Bredda" Thurton in the Caesar Ridge line-up; and though he displayed his usual wizardry in attack, the City Boys defence was up to the task and managed to keep him off the scoreboard. Bredda Thurton is reportedly on load from Verdes FC, where he has not seen action for some time, and which is apparently allowed by FIFA rules of player loan/transfer.
This coming Saturday, it will be the decisive 2nd leg of the quarterfinal series.
The CYDP Peace Cup games are FREE; and the MCC will be featuring some exciting match-ups to end the quarterfinals. Established star, #88 Gilroy "Bredda" Thurton is one of the shortest players on Caesar Ridge; rookie sensation, #9 Orlando "Bredda" Velasquez is by far the tallest on his team, and indeed in the whole tournament. (See team pictures below.)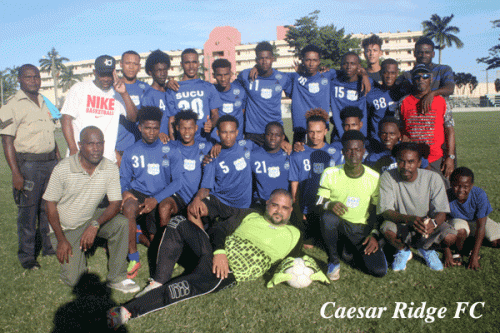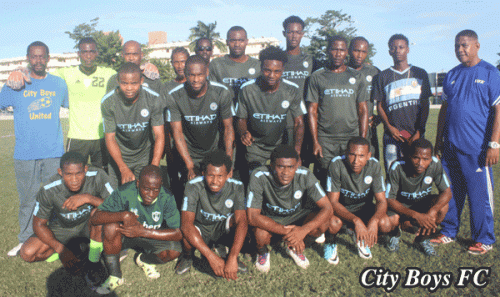 Saturday, December 8, MCC  
Quarterfinals 2nd Leg
9:00 a.m. – Barrack Road FC vs Lake-I FC
11:00 a.m. – Caesar Ridge FC vs City Boys FC
1:00 p.m. – Coast Guard FC vs Lucky Strike FC
3:00 p.m. – FC Elite vs Ladyville FC