Vital witnesses for the prosecution failed to appear in court.
BELMOPAN, Thurs. Feb. 13, 2020– Deputy Commissioner of Police, Miguel Segura, knocked down and killed Yolanda Consuelo Valencia, in the early morning hours of August 16, 2014, on the George Price Highway near Mile 71.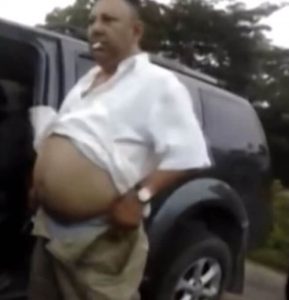 A very unflattering picture of DCP Miguel Segura at the time of the accident. (Photo 7 News)
The 55-year-old Valencia was travelling as a passenger in a taxi when a government-owned Nissan Pathfinder that was being driven by Segura slammed into the taxi, killing Valencia on the spot.
The driver of the taxi, Yanie Cu, suffered severe head and bodily injuries, from which he has still not yet fully recovered.
Segura was charged with manslaughter by negligence for Valencia's death and his case was traversed to the Supreme Court for trial.
Today, the case concluded in an acquittal for Segura. The acquittal came after vital witnesses for the prosecution failed to appear in court despite notices sent to them. Apparently, there were errors in serving the summonses to the witnesses.
A no case to answer submission was made by the defense, and the judge upheld the submission, bringing an end to the case.
In 2017, Valencia's aggrieved family received a settlement of $78,000 from the Government of Belize on Segura's behalf.
The money can in no way replace their loved one, whom they lost under extremely tragic circumstances, their attorney had explained.
Valencia's mother, Yolanda Valencia, had filed a civil claim in the Supreme Court in August 2017, for the negligent death of her daughter.
Valencia's claim was settled out of court when the case was called up in the Supreme Court of Madam Justice Shona Griffith.
The government's Deputy Solicitor General, Nigel Hawke, agreed to a $78,000 settlement, bringing the claim to an end.
$70,000 was awarded to Valencia, while the remaining $8,000 is to be paid to two attorneys: Kareem Musa, who represented Valencia, and Bryan Neal, who represented the three children of the deceased.
Feature photo: DCP Miguel Segura