BELIZE CITY, Mon, Sept. 24, 2018– Last Thursday the body of His Excellency Dr. Dean Lindo, 86, Senior Counsel, and a former UDP Leader/Minister of Government, was cremated and his ashes were put in a small mahogany box.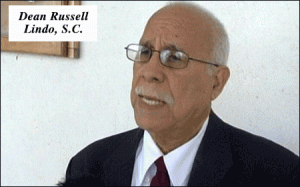 This afternoon the box was taken via a procession to St. John's Cathedral for a state funeral that was well-attended. Lindo, who had been ailing since last year, passed away on September 17 at his home in Buttonwood Bay.
The eulogy was read by Hugh Michael Lindo and Mrs. Lydia Thurton. Others who spoke at the funeral included Hon. Michael Finnegan, Minister of Housing; Senator Godwin Hulse; Sandra Lindo and Anwar Barrow.
The sermon was read by the Right Reverend Philip Wright, Bishop of Belize.
After the church ceremony, Lindo was given a 21-gun salute by members of the Belize Defence Force.
Dean Lindo was born on September 4, 1932 in Belize City. He was one of six children born to Maurice and Ina Lindo. He was one of the founders of the United Democratic Party, which was formed in 1973. He served as Leader of the party from 1974 to 1979.
Lindo practiced law in Belize from 1964 and before he became ill, he was the eldest practicing attorney in Belize.
Lindo was a graduate of New York University and Durham University, and he was a member of the Honorable Society of Gray's Inn.
In 1969, he first ran for the Belize House of Representatives as a member of the National Independence Party/People's Development Movement coalition (NIPDM) in the Fort George constituency, and lost to Alexander Hunter, the PUP incumbent.
In 1974, he defeated Said Musa, the new PUP candidate for Fort George by 46 votes and was elected to serve as the area representative for Fort George. He, however, lost to Musa in the next election, but he regained his seat in 1984 when the United Democratic Party won the general election for the first time.
Lindo was the Minister of Natural Resources from 1984 to 1986, and he was the Minister of Agriculture, Forestry and Fisheries from 1986 to 1989.
He created the first Jaguar Protection Reserve and Hol Chan, the first marine reserve. Lindo was a sports enthusiast, who brought pitpan competition to Belize and he was an avid boxing fan.
He also loved sailing boat competitions, and was a regular participant in the Harbor Regatta.
Apart from his son, Martin, he is survived by his second wife, Betty Lindo. May he, rest in peace.