BELIZE CITY, Wed., Jan. 27, 2016–Today was the official launch of the Belize Education Sector Reform Project Phase II at the Belize Biltmore Plaza Hotel. The Minister of Education, Hon. Patrick Faber, said that in the second phase 35 new schools will be built: 22 pre-schools, five primary schools and eight secondary schools, and these schools are expected to accommodate 5,300 students.
Deidre Clarendon of Caribbean Development Bank (CDB) said that CDB is facilitating Belize with a loan of US$35 million to assist with its educational reform. Clarendon said, "The government of Belize has recognized that education is the transformational vehicle for economical growth and development and this project exhibits the country's understanding of the critical role of basic education in that process."
Faber said that phase I and phase II of the Belize Education Sector Reform Project were focused on three policy objectives. Two of these objectives — improving the "quality and relevance of education at all levels" and increasing student achievement by strengthening the governance of the system, were addressed in phase I of the project, said Faber.
Meanwhile, phase II of the Belize Education Sector Reform Project will be geared at implementing the policy of "increased equitable access to all levels of education," Faber said.
Faber remarked, "I would like to emphasize that the locations of these schools have been determined scientifically, which is based on a school mapping model that considers the current supply of school spaces as against current and projected demand as determined by population projections."
Faber added that these schools will be built and owned by the government; however, they will engage the denominational partners in managing these schools.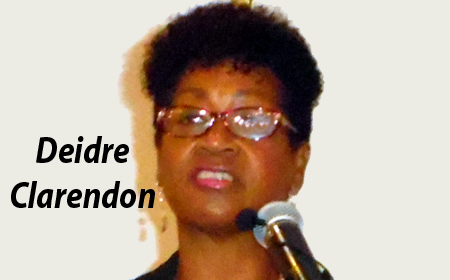 Clarendon said that the Belize Education Sector Reform Project Phase II will facilitate an increase of equitable access to quality basic education, so more children will have access to the education system.
Clarendon further stated that there are two major components of phase II. The first will center on improving the current capacity of the school infrastructure.
Meanwhile the second component will improve "mechanisms and capacity for quality service delivery through the implementation of a number of institutional strengthening and capacity building activities," Clarendon said.
Also, there will be a development of a "national school maintenance policy" and they will look at possibly "increasing the age of compulsory education given the critical importance of education to national development," Clarendon said.
Clarendon commented, "These activities are in keeping with the education pillar of your national development plan Horizon 2013, the Belize Education Sector Strategy and CDB's own strategic objective of supporting inclusive and sustainable growth and development."
Clarendon expressed the Caribbean Development Bank's appreciation for being a part of the transformation taking place in Belize's education sector, which, he said, is really "necessary to continue the advancement of the social agenda."