BELIZE CITY, Thurs. July 16, 2015–Billionaire drug kingpin, Joaquin Loera Guzman, 58, nicknamed "El Chapo" (Spanish for "Shorty"), the high-profile man said to be the head of the Sinaloa cartel of Mexico, has been put on the wanted list of the US Drug Enforcement Administration and Interpol, which today issued a "red notice" for his detention, five days after Guzman, believed to have been aided by top prison officials, escaped from maximum security at Altiplano Prison in Almoloya de Juarez in Mexico, even while under 24-hour surveillance and wearing a monitoring bracelet.
According to the US Department of Justice, an Interpol red notice is the closest instrument to an international arrest warrant in use today.
Mexican authorities have now put out a reward of 60 million pesos or US$3.8 million for information leading to the recapture of El Chapo, who also goes by the names "Chapo Guzman" or "El Rapadito." However, the US State Department has issued an award of US$5 million. (See here: http://www.state.gov/j/inl/narc/rewards/115366.htm)
While reports coming out of Mexico earlier this week claimed that both US and Mexican authorities believed that Guzman, who is described as 5 feet 6 inches tall with a weight of 165 pounds, had headed to Belize, more than 700 miles southeast of where he escaped via a mile-long underground tunnel, National Security officials here in Belize say that foreign officials from those countries have not made any such claim to them.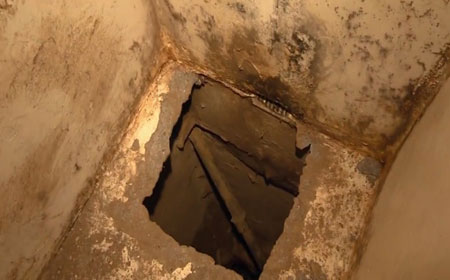 Ret'd Colonel George Lovell told Amandala that Belizean law enforcement authorities, as well as Customs and Immigration officials, are, nonetheless, on high alert, and an all-points bulletin issued immediately after word was received of Guzman's escape around 9:00 on Saturday night remains in full effect.
Lovell said that Belizean security officials are relying on intelligence surveillance to monitor the situation, including any possible communications he may have with persons whom the US have fingered as having Sinaloa connections here in Belize.
Back in August 2012, the US Department of the Treasury's Office of Foreign Assets Control (OFAC) had announced that the Stann-Creek based, Belizean business magnate, John Zabaneh, his nephew Dion Zabaneh, of Belize City, and Corozal-based businessman Daniel G. Moreno, as well as five businesses associated with the elder Zabaneh and Moreno, have been named under the Foreign Narcotics Kingpin Designation Act as persons and companies that can no longer do business with US individuals and companies.
OFAC Director Adam J. Szubin had said that, "By designating Zabaneh, OFAC is disrupting those activities and continuing its efforts, alongside those of our law enforcement partners, to expose operatives of Chapo Guzman and the Sinaloa Cartel, including their businesses."
Lovell confirmed that US Drug Enforcement Agency (DEA) agents, who have an interest in the Guzman case, are in Belize, and Belize police also operate an office which links with Interpol, which also wants Guzman.
On Tuesday, July 14, the Embassy of Mexico in Belize sent formal notification to the Government of Belize of Chapo's escape, although word first came on Saturday, July 11, when the incident occurred. Belize last communicated with its Mexican counterparts yesterday, and there was still no information to suggest that he is in Belize, Lovell said.
This is not the first time El Chapo has escaped Mexican prison. Back in 2001, he was hidden in a laundry cart, aided by prison officials, and he remained on the run for 13 years before he was recaptured last February.
The last time Belize officials issued an APB of the sort, now in effect for Guzman, was a few years earlier, said Lovell, when an associate of Guzman was believed to have used Belize as a transit point between Mexico and Guatemala.
Lovell expressed doubt that El Chapo is indeed in Belize: "Why would you come to Belize of all countries, unless you would have the level of security where nobody would be able to touch you?" he questioned.
"He will be hiding somewhere where he would be in a safe haven," said Lovell, suggesting that Guzman may actually still be hiding out in Mexico, where he would be more secure.
The CEO did concede, though, to the possibility that Guzman could have passed through Belize, but added that, "…we do not think he would want to come for any duration."
Forbes published a report yesterday saying that El Chapo may be hiding out in the mountains of his native Sinoloa in Mexico.
Lovell told us that if Guzman were to be detained in Belize, he would be handed over first to Mexican officials, not to the US, which also has him on their wanted list, since he is a Mexican national. Lovell said that the US officials would have to have that dialogue about having Guzman extradited with the Mexicans.
Belize does have an extradition treaty with both countries, but Mexico also has an extradition agreement with the US. It has been said in the international press that Mexico has been reluctant to extradite citizens wanted on charges that could result in the death penalty, if found guilty.
Since El Chapo's escape from Mexican prison, it is being argued in US circles that authorities there should have pressed for his extradition to the US long ago.
The US State Department says that, "The first U.S. indictment against Guzman-Loera was unsealed in San Diego on September 28, 1995, charging him and 22 members of his organization with conspiracy to import over eight tons of cocaine and money laundering." The US also accuses the organization of involvement in the production, trade and distribution of methamphetamine and heroin."
After Guzman's escape this weekend, Mexico's Interior Minister axed three prison officials, including the head of the institution from which Guzman escaped, on allegations that there was official collusion to secure Guzman's escape to an abandoned building about a mile away.
Joaquin "El Chapo" Guzman was nabbed in Guatemala in 1993 and sentenced to 20 years in prison. However, his 13-year escape broke that original sentence.
El Chapo is listed as wanted for US Federal Drug Violations in the District of Arizona, the Western District of Texas, the Southern District of California, and the Eastern & Southern District of New York. The DEA lists the charges as 4 counts of "conspiracy to import and possess cocaine with intent to distribute; money laundering, criminal forfeiture…"
They add that an attempt should not be made to apprehend Guzman, who is considered to be armed and dangerous, but that the US Marshals Service should be contacted at 1-877-WANTED2 or 1-877-926-8332. The notice added that, "Rewards are available at the discretion of the U.S. Marshals Service."