Good afternoon friends and family,
David Emmanuel Alexander Jenkins, born on September 24th, 1933, the only child of Hazel Baptist and David Jenkins, was truly a special man. He was David and Dave to his loving wife Joan Kay, his mother Hazel Baptist, his only living sibling Catherine Jenkins Miller and to Enid and Olive Gullap who were like his sisters; he was Dad or Daddy to his Marthee, Dennis, Vannie Van, Cynthie Pie and Baby Girl, Di. for Solitaire, myself, Klay Jr., David, Kayla, Orlando, Kara, Alexandra, Shakira, Halle and Ethan; he was granddad and great grandfather and gunging to Rony, Kyra, Jalen, Lucas, Kylie, Mya, Leo, Elijah, Judah, and Tessa. For my brother and I not only was he a grandfather, he was truly a grand father because for more than half of our lives, he was like our father, a father that was simply grand and known to us as "Fadigran."
For 83 years, he was David, Dave, "Brainwave", Mr. Jenkins, Mr. Jenks, Mr. J, Sarge, "Radio Man", "TV Man", the man that took off his Saturdays for a year, closing his shop in order to go out to Battlefield park to fly a Belizean flag design which was half blue and half red; in the end not even to enter his design into the flag competition because it was never about him, never about recognition, he had achieved his goal to raise awareness of the issue and build public sentiment to have red on our Belizean Flag. For all of us here that have had the distinct pleasure of knowing him, we all know why he was so loved and respected, as the kind of man you looked at and wanted to be, your father. He was an intelligent, honest, nice, calm and cool guy that was never interested in drawing attention to himself or seeking praise. Besides being Mr. Jenkins the TV Man, the man that gave people affordable access to see TV in the early 1980s, he was a scoutmaster, a unionist, an RF technician, a mechanic, first working with Mr. Turnell who is the one that called him Brainwave whose test to get the job was to fully disassemble and reassemble a Jeep Wrangler by himself and then as a mechanic on a German ship, a cab driver, he was a photographer, a jeweler, Sergeant in the Volunteer Guard, an explorer who lived in Mexico, the United States, El Salvador, Cuba and Guyana,…so besides all of us sitting in here and the other family and friends that were not able to not make it, I am truly confident that there are people out there that have been influenced by him and continue to be.
Over the years he amassed a lot of wealth, for he was filled with immense knowledge and received an overflowing abundance of unconditional love from family and friends. He was always respectable and respectful, honest and caring, kind and compassionate, carrying himself with dignity and pride. For a man like him, I really do not need to stand here today and continue to tell you of why he was so loved, and held in such high regard, for each us that knew him we simply have to turn to our memories.
For those that only knew of him, I will tell you a little bit about what kind of person he was. There was always a deep, burning, innate curiosity that could not be tamed, he always wanted to learn new things and when he got into something new, he REALLY got into that subject. He would get all the tools and equipment he needed, plus several different books to be well-versed on the topic. When he taught anyone, it was always intense and thorough with a lot of details because he wanted you to understand. I can recall that when he would teach my brother and me, it would always involve lots of talking that would go along with hand drawn diagrams. When we were trained in photography, we would sit down at the table with graph paper and with our own Composition or Exercise books, to do calculations such as determining the optimal distances depending on the lenses that we would be using, the film speed and estimated lighting. We were never only supposed to know the 'how' to do something, but were required to know the 'why'. He was never selfish with knowledge and information and his time, always willing to share what he had learned and came to know and to turn around and teach others.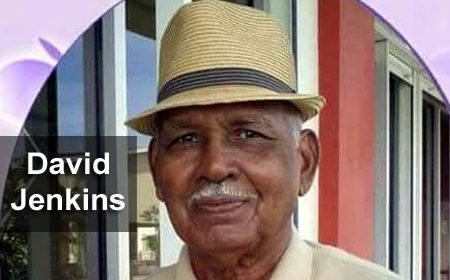 He believed in apprenticeship and mentorship before it was popular thing to do, he mentored many people whom to this year met him or other members of our family and recounted how thankful they were to him for his guidance and influence. His understanding and compassion would be on display when he would accept payment in the form of beans, rice or whatever other produce the person had instead of cash to repair equipment. As a sergeant in the Volunteer Guard, in preparation to get in condition and shape, he would start to do marches twice per day by himself from his house on Gibnut Street, walking down to the Boulevard, down Fabers Road and then down the Highway, that's 4 miles in the morning and 4 miles in the evening for an entire month before camp started. When it was time for camp he would leave his shop for two weeks, as a self-employed person that was such a big deal that showed his patriotism and love of country. As a photographer he took photos for several of our newspapers and travelled with our national teams to take photographs of the tournaments and games throughout Central America. He was fluent in Spanish so being in the Central American countries was not a problem for him and often assisted those that were not able to understand Spanish. He was a big proponent of speaking proper English when in public and professionally, saving Creole for the house or informal situations. Speaking proper English was always something he was passionate about and implored everyone to do especially his family members.
He had such an incredible work ethic and always strove for excellence and succeeded at everything he had put his mind to. He was a Renaissance man. As is evident by the many occupations and professions he had, he constantly reinvented himself, but one thing that remained constant was family. He always led by example in professional life and personally.
On every visit, each of his hellos was opened up with a hug and each goodbye was sealed with one as well. As a family, we had never seen him angry, never, ever heard any stories about him putting hands on his wife except when he would hold her by the waist kiss her and give her hugs, in the morning, at lunch, and evening time. This was something that continued throughout their 6 decades of love.
He liked being informed of local and international events, he used to buy all the local weekly newspapers and bring them home, not just for himself but for everyone. In addition to reading the newspapers, I can recall that he would often write letters to the editor in the newspapers about various topics that he wanted to address. He would watch and listen to news every day and discussed the happenings of the day with those who were around. He loved technology and computing and had appreciation and the perspective of time, having assembled his first personal computer in 1980 called a ZX80 that had 1KB of RAM and a 3.25Mhz processor to using smartphones, tablets and PCs that have thousands of times the computing power and RAM size. He had a deep appreciation for almost all genres of music, especially Latin music like tango, danzon and bossanova. As a child I remember putting on Vinyl 45s and 33s that were still around at my aunt's house, especially the dinner music collection and was always told that was the only thing that was allowed to be played when my aunts and mom were kids at the table eating. Not only did he like to listen to music, he knew how to read and write music played a little bit of piano, flute, cello, guitar, accordion, harmonica and tuba.
He was an awesome and great man, one that didn't like to toot his own horn, so much so that he turned down being featured in a local program on more than one occasion because he never liked talking about himself in some sort of haughty way, in fact most of the stories that we came to know about him didn't actually start off with him telling them, it was my grandmother that would tell us and he would join in afterwards. You never felt uneasy or unsure in his presence, instead there was reassurance, comfort and pride. Surely there were rules he had, of course with us grandchildren benefitting from changing times, but generally there was no talking at the table, no hats at the table when eating, no TV when eating, no going out of the house looking unkept or in undershirt. And when you were on the street with him, you walked with purpose and dignity, you felt happy and proud as all the people that knew him would call him by various names to match the facet through which they knew him, always with utmost respect in their voices.
It is not possible to put 83 years, 6 months and 24 days into a few minutes. These words and any amount of words will never be enough, never quite capture all our feelings and reflections, but on the other hand most of us are so lucky to have millions of them inside our minds, for as it is said 'a picture is worth a 1000 words' and all of us should be so thankful to have so many moving pictures on file inside our minds to hold on to in the form of memories of him.