BELIZE CITY, Thurs. Nov. 30, 2017–Late this evening, four persons were arraigned before Senior Magistrate Aretha Ford for possession of 8 rounds of ammunition and 40 grams of cannabis. They are Sonia Shepherd, 61; her son, Kenrick Danderson, 40; her daughter, Aretha Danderson; and her grandson, Ahkeem O'Brien, 18.
They pleaded not guilty to the charges. One of the charges, keeping ammunition without a gun license (for which bail is not offered by the Magistrate's Court), prevented the Magistrate's Court from offering them bail, but their attorney, Dickie Bradley, had already filed bail applications for them at the Supreme Court.
Fortunately for them, Justice Adolph Lucas agreed to hear the applications. Soon after their arraignment, they were escorted over to the Supreme Court, where they were each offered bail of $7,500.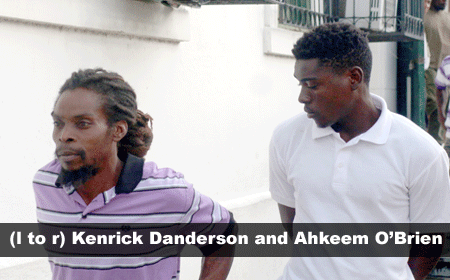 The incident which led to the charges against the four, occurred on November 28. Police reported that they conducted a search at a house in Hattieville and found 8 rounds of ammunition in a clothes barrel and 40 grams of cannabis under a mattress.
As a result, all four persons who were present in the home at the time of the search were arrested and charged.