BELIZE CITY, Thurs. Dec. 10, 2020– Yesterday morning on Krem's WUB, we were shocked, as if anything in Belize can shock us anymore, to receive the news of the passing of a veritable institution on Partridge Street, brother Lloyd "Panades" Flowers, who for the past four decades plus has been the next door neighbor of Kremandala, his two-storey cement home being only a few feet away from the Amandala/UEF Library office building.
A man of strong views and fearless determination, Lloydie was usually the first person greeting me each morning from his upstairs front verandah as I made my way across the street to the Kremandala zinc fence gate. "Pa Chaal! Good maanin, mi lee bredda!" he would shout. To which my usual response, "Bradda Lloyd! How di maanin, Bo!?"
Shortly after the pandemic hit Belize in late March, I have been working from home, so I have missed our early morning exchanges. The few times I have visited the zinc fence recently, I didn't see bradda Lloyd on his verandah, and I was not aware he had health issues, other than a strained back from lifting weights a few years ago, for which he had undergone an operation.
In his younger days, Lloydie had a reputation as a "cantankerous" individual, but he was always frank and straightforward. Some would say he didn't "take no mess."
Our relationship, nevertheless, was always cordial and special. He was a sportsman, like me, and was very concerned about our youth and sports.
I am reminded of his younger days, when the St. Martin's area was just developing, and like Amandala, Lloydie, a panades salesman at the time, was a pioneer in the area reclaiming the swamp and turning it into living quarters for his family. Two of his young sons, "Pappy" and "Bronson" helped at folding papers in the old Amandala shed while I was employed there for a while in the late-1980s. And his daughter Christy is currently employed next door at KREM.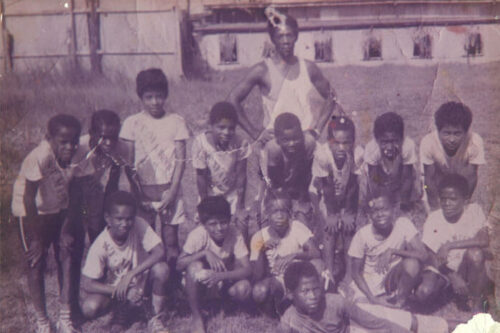 In the early 1970s, Lloydie was the coach for a St. Martin's primary school boys football championship team that included some youths who would go on to national fame. Amandala has in the past printed a picture of that St. Martin's team that included later superstars Christopher "Greek" Luben, Enrique "Ricky" Gongora and Arthur "Goatman" Leslie. Also on that team were my cousin Lewis Belisle, Jr., Steve Guild, Ronald "Papacito" Gladden, Whiteclif Cooper (younger brother of "Horsey") and others.
All of Kremandala extend our sincere condolences to his wife Sharon and their children, other relatives and friends.
Till we meet on the other side, Rest in Peace, brother Lloyd Flowers!