BELIZE CITY, Thurs. Sept. 26, 2019– It has been a somewhat tedious task, keeping track of all the games in the various categories of the Football Federation of Belize (FFB) Youth Tournaments 2019. But it is a labor of love, at long last seeing our youth from all across the country getting a chance to participate in competitive inter-district games over a prolonged period; and already it is bearing fruits, as evidenced in the performance of our youths at the CODICADER Games in Honduras earlier this year.
The 10 football districts of the country each presented a selection to participate in Inter-District Tournaments in 4 categories – U-15 Female, U-15 Male, U-17 Female, and U-17 Male – with games being played every Saturday, beginning in late May of this year. The 10 teams in each category were divided into 2 Groups, and a double round-robin played in each Group, after which the teams were seeded and matched in a home-and-away knockout playoff round. The winners then moved on to a "League Stage," which has resulted in the two finalists in the U-15 Male and U-17 Male tournaments. U-15 Female and U-17 Female tournaments started a little later than the males, so they are presently still in their League Stage.
U-15 Male Inter-District Finals
Orange Walk vs Belize
Judging from the FFB's "U15M Global Table of Standing," at the culmination of the U-15 Male elimination playoffs, it would appear that Orange Walk is the favorite going into the Finals against Belize on Saturday. Orange Walk has scored a whopping 55 goals (GF), while allowing only 15 (GA), for a +40 goal difference (Diff). They lost 1, drew 1, and won 10 games, for 31 points at the top of the standings. Meanwhile, Belize scored 27 goals and allowed 20, for a +7 goal difference. Belize lost 3 games, drew 3, and won 6, for 21 points.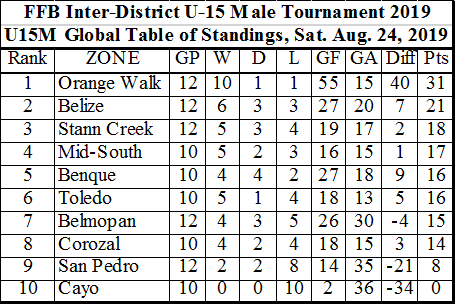 Of course, when two teams clash, "any number can play." According to FFB Director of Communications, Yashmin Juan, "This one is one game. Winner takes all."
U-17 Male Inter-District Finals
Belize vs Toledo
The Global Table Standings is not available for the U-17 Male, but in the elimination round, the two undefeated district teams moving on to the Finals are Belize and Toledo.
MALE INTER-DISTRICT FINALS SCHEDULE
Saturday, September 28
3:00 p.m. – (U-15 Male) Orange Walk vs Belize – Isidoro Beaton Stadium
5:00 p.m. – (U-17 Male) Belize vs Toledo – Isidoro Beaton Stadium