BELIZE CITY, Thurs. Dec. 2, 2021– No fans are allowed as yet in the stadiums, but games continue in the Football Federation of Belize's (FFB) Top League 2021 Tournament that completed Week #6 games this past weekend. In addition, a game was also played last Wednesday as part of the revised schedule for the three Week #9 games, which are now being played mid-week on three consecutive Wednesdays, beginning last week, November 24. That was Caesar Ridge FC vs San Pedro Pirates FC. Yesterday, it was Altitude FC vs Garden City FC. And next Wednesday, it will be Verdes FC vs Wagiya SC, to complete the three Week #9 games, all starting at 6:00 p.m. at Isidoro Beaton Stadium, where all the Top League games are being held.
In last Wednesday's, November 24, Week #9 encounter, San Pedro Pirates FC squeezed a 2-1 victory over Caesar Ridge FC. Budding star, Orlando Velasquez (53') gave Caesar Ridge an early second half lead, but the Pirates responded with goals from Gilroy "Bredda" Thurton (56') and Facundo Garnier (60') to secure the 2-1 win.
In the regular Week #6 scheduled games, on Saturday, November 27, Garden City FC earned their first win of the tournament, a 1-0 victory over San Pedro Pirates FC, courtesy of a first half strike from Jarret Davis (19').
In the opener on Sunday, newcomers Caesar Ridge FC held undefeated Verdes FC scoreless in first half and missed a few good opportunities to score on the seasoned league leaders; but Verdes pulled out the 3-0 win, their sixth straight, with a goal each from Mexicans Camilo Marquez (75' PK) and Edwin Bernal (81'), and another from Krisean Lopez (90 +3' PK).
And in the nightcap, two goals from veteran Ashley Torres powered Altitude FC to a 2-1 win over Wagiya SC. Torres got a goal in each half (7' & 71') for Altitude, while Carlton "Fubu" Thomas (33') avoided the shutout for Wagiya.
Then last night, in another Wednesday match, it was Altitude FC, 2-nil, over Garden City FC, courtesy of a goal in each half from Luis "Baaka" Torres (37') and Ronaldo Vergara (54').
One more mid-week game remains, next Wednesday, December 8, when Verdes faces Wagiya to complete the Week #9 schedule.
Below is our compilation of the latest standings with Week 6 completed along with 2 games from Week 9 so far.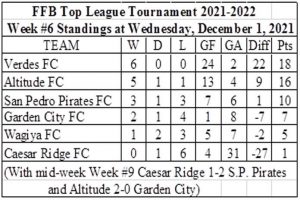 Upcoming Week #7 schedule:
Saturday, December 4
4:00 p.m. – Verdes FC vs Altitude FC
Sunday, December 5
3:30 p.m. – Caesar Ridge FC vs Garden City FC
6:00 p.m. – Wagiya SC vs San Pedro Pirates FC
Week #9 mid-week match:
Wednesday, December 8 (Week #9)
6:00 p.m. – Verdes FC vs Wagiya SC