BELIZE CITY, Sat. Oct. 26, 2019– Five games, two U-10 and three U-13, were scheduled for today, Saturday, in Week 4 of the Future Football Club U-10 & U-13 Little League Tournament 2019, being played at the ITVET (Old Technical) Football Field in Belize City.
In game 1 (U-10), Belize United defeated Caesar Ridge, 4-0, with a goal each from Juan Diego, Gerald Vellejios, Ishmael Gonzalez and Antwan Latchman. Game 2 (U-10) was a 1-1 draw between Reality Youths and Yabra FC. Gilygion Nunez shook the net for Reality Youths, while Robert Casasola hit the target for Yabra. Game 3 (U-13) ended in a scoreless, 0-0, stalemate between Future FC and Caesar Ridge. In game 4 (U-13), Ezekiel Willoughby scored the only goal of the game, as Sports In Education won, 1-0, over Jah Love. And in game 5 (U-13), Survivors FC shut out Belize United, 2-0, with a goal apiece from Tashawn Broaster and Tayshawn Gillett.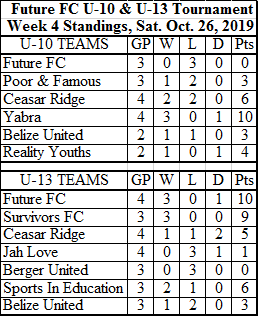 Upcoming schedule:
Saturday, November 9
10:00 a.m. – (U-10) Future FC vs Reality Youths
11:00 a.m. – (U-10) Yabra FC vs Belize United
12:00 noon – (U-13) Sports In Education vs Belize United
1:00 p.m. – (U-13) Caesar Ridge vs Survivors FC
PLEASE NOTE:  There will be no Little League football games this Saturday, November 2, because the field will not be available.