BELIZE CITY, Thurs. Mar. 16, 2023
The Belize National U19 Women's Team returned home on Sunday, March 12, after the week-long UNCAF U19 Women's Championship tournament in Honduras without having won any games and finishing at the bottom of the rankings; but it was not all gloom for our young women who were competitive in all games played. Indeed, our young women demonstrated having made huge strides since their previous outing in February of 2022 in El Salvador, where Sports Minister Rodwell Ferguson was a painful witness to our girls succumbing to some lopsided scores: 6-0 from El Salvador, and 8-0 from Panama. "They were led like a sheep to be slaughtered," the heartbroken Hon. Ferguson had said, while pledging to do all in his power "as the new Minister of Sports … to change the narrative."
Minister Ferguson could not accompany our girls on this most recent trip to Honduras, but he must be encouraged to know that our Belizean U19 women were no pushovers for any of their opponents this time around. Also, considering that last week's UNCAF U19W tournament in Honduras was held at altitude in Tegucigalpa, their performance was even more impressive. Belize lost to hosts Honduras by only a 2-0 score in their tournament opener on Sunday, March 5. On Tuesday, they battled Guatemala, who scored early at the 3rd minute; but Belize was undeterred, and though for sure she was closely marked, our premier young striker Khalydia Velasquez equalized things for Belize, 1-1, at the 53rd minute. And they remained deadlocked until almost the end, when Guatemala managed to get the game winner at the 89th minute for the 2-1 final. And in our final group encounter, the powerful Panama, who later ended up sub-champions in the tournament, only managed to squeeze a 1-0 victory over Belize. For sure, there is no taking Belize women for granted any more in Central American football.
The two group last place teams (4 teams in each group) played off for 7th place on Saturday, and Nicaragua bested Belize, 3-0, leaving Belize to take 8th (last) place. But, considering from how far back we have come, there is much for our girls to celebrate. At the current trajectory, we'll get them next time.
And this is no idle boast. Lift up your heads and hearts, Belize U19 Women! Consider that the eventual champions, El Salvador played the final against Panama and ended up 3-3 in regulation, before El Salvador prevailed 4-3 in penalties for the championship. And Panama could only manage a 1-0 win over Belize. Guatemala went down to the wire 1-1 with us, before escaping with a 2-1 win near the end of regulation.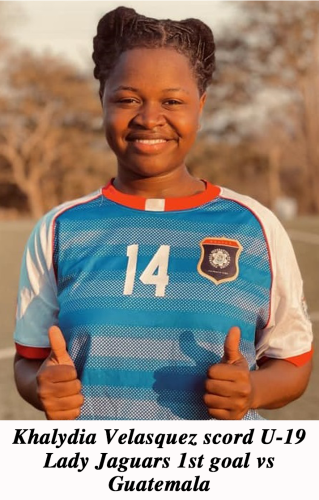 It's back to the drawing board, but with renewed energy and resolve! Our Belizean "Bembe" girls will shake up Central America the next time around. Yaa, that sounds right! Bertie unilaterally named our boys the Jaguars. But there is one other Belizean football legend whose name will live on for generations to come. So, yes, there are reasons enough to give our women more "girl power" when they go back into combat in the region. Let's give them a real powerful Belizean name with power and historical significance! How about Belizean "Bembes", FFB?
The team roster of 20 players was led by head coach – Wayne Casimiro, assistant coach – Iris Centeno, and goalkeeper coach – Miriam Villamil. Equipment manager was Herbert Trapp, Jr., medic – Balyn Gordon, team manager – Karissa Alvarado, and technical director – Philip Marin.
The 20 players on the Belize U19 Women's National Team are: goalkeepers – Belinda Linarez and Loraine Crawford; defenders – Nigelee Myers, Jahniah Arnold, Jessie McLaughlyn, Shamika Lambey, Karel Avila, Tory Ramirez and Alicia Coc; midfielders – Ceneia Apolonio, Gabriela Mendoza, Marjorie Sanchez, Loraine Cal, Alaini Gonzalez, Shayalee Flowers and Roshanny Narvaez; and strikers – Khalydia Velasquez, Xhania Dubon, Josefin Reyes and Elva Nunes.