BELIZE CITY, Wed. Oct. 28, 2020– About a week ago, reports from New Jersey, where hospitalized football great Gilroy "Coro" Usher had undergone a lung operation, were that the situation looked bleak, and it seemed the "long whistle" might soon be blown on the life of our teammate and friend, Coro.
That was last Tuesday, October 20, when his former teammate Maurice "Reesho" Jones, who had been in regular, almost daily contact with Coro over the past couple months of his illness, relayed the discouraging news. He had spoken with Coro's daughter, Coretta, Coro being intubated after the operation and his life in the balance; and the situation was that the doctors had done all they could do for Coro, both his lungs now being almost "completely gone". His older brother, Anthony "Preacher Boy" Usher had made a Facebook post asking for prayers; and the prayers and well wishes streamed in from his many relatives, friends and acquaintances in the U.S. and back home in Belize.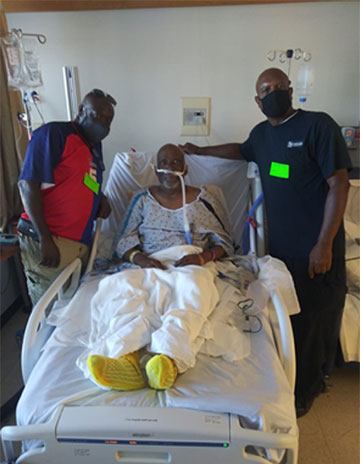 In some long conversations that I also had shared with Coro from his hospital bed over the past two months, we reminisced a lot about football and some of his life experiences developing as a young baller, to become one of the sport's major stars in Belize from the late 1970s through the 1980s. A few critics sometimes complained that Coro had only "one feint." But his many fans would quickly counter, and accurately so, that the so-called "one feint" always worked for Coro, who made his mark on the 1983 Belize national selection that hosted Canada at Orange Walk's People's Stadium; and again was instrumental in Coke Milpros' historic 3-nil Concacaf 1989 win at the MCC over Nicaragua's Diriangen General.
Where there is life, there is hope.
Yesterday afternoon, we got some good news. (Give thanks and praise to The Most High!) Reesho said that he spoke to Coro for a short while; he got winded easily, and couldn't talk for long. But he is still with us! Jah bless!
And this afternoon, another super-striker that had received many an assist pass from midfield general Coro, Turo "Goatman" Leslie said he also just spoke with Coro; and more than that, Coro, who is also an accomplished Karaoke vocalist, even entertained him by singing one of his Karaoke favorites.
Now, that's some really great news! Allelujah! Allelujah !
I picked up the courage to call myself, and tonight Coro, who was upbeat and sounded stronger than when I last talked to him before the operation, confirmed that he sang "Bridge over troubled waters" for Turo. For six days, Coro said, his life had hung on the brink; he couldn't breathe, except for the machine that he was intubated with. But he says he is thankful for the prayers of his many loved ones, relatives and friends who kept a prayer vigil going; and their prayers were answered, when he was again able to breathe on his own.
It ain't over yet. Coro is still confined to bed and receives oxygen periodically; but he feels he is on the mend, and we are thankful for all the extra time we can get.
We continue to send our love and prayers for Jah healing blessings and comfort to our brother, Coro.